Review Date: June 22nd, 2012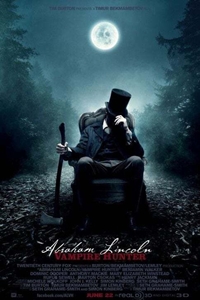 One scene sums up the mind-boggling, inconsistent, completely lacking in self-awareness antics on display in Abraham Lincoln: Vampire Hunter: with a female vamp mere inches from digging her fangs into his neck, Lincoln (Ben Walker) is rescued by his bumbling cohort Speed (Jimmi Simpson), who breaks through the wall of a mansion by driving a horse and carriage through it. Like a truck. Because horses are as powerful as trucks.

The inherent ridiculousness of Abraham Lincoln: Vampire Hunter requires an acknowledgement of said ridiculousness, but director Timur Bekmambetov doesn't seem to be in on the joke. Instead of winking, he and writer Seth Grahame-Smith (adapting from his own novel) steep the story to historical accuracy (seriously) and fill in the major plot holes and illogic with aggressively incoherent action scenes. Employing his hyper-kinetc, CG-filled style from Wanted, Bekmambetov crafts a straight-up Lincoln biopic with rewired origins. Now, Lincoln is inspired to study law, take a stand in the U.S. government, run for President and emancipate the slaves because if he doesn't, vampires will take over America; His personal valet, William H. Johnson (Anthony Mackie), is actually his parter-in-crime, slicing and dicing vampiric foes in two with all the agility of a ninja; And teaching them how to conduct their vampire hunting business is Henry Sturgess (Dominic Cooper), who also encourages Abe to wipe all bloodsuckers off the planet — not just the one who killed his parents.

Newcomer Walker holds his own against the chaos of AL:VH's script, which picks up and throws away plot lines with little consequence. In the moments where Lincoln is just being Lincoln, when the action dies down and you can see the amazing makeup that transforms him into the 16th President, he's surprisingly commanding. Lincoln's most interesting relationship, his bumpy marriage to Mary Todd (Mary Elizabeth Winstead), is briefly interesting thanks to the duo's lovely rapport, but the scenes carelessly smeared into bigger picture. Even when Walker's splitting the skulls of vampires with Lincoln's signature axe, the actor carries the horror material with ease. But Vampire Hunter isn't a horror movie, Bekmambetov making that clear by amping up every quiet, creepy moment and overloading it with fights and manic editing.

Not helping Abraham Lincoln: Vampire Hunter's is the shoddy production value that plagues half the run time. There's little consistency on screen, with main set pieces garnering extra attention (a sequence in which Abe chases down a vampire who evades capture by throwing galloping horses is quite spectacular/silly) and routine walk-and-talk scenes only a step or two up from Flip Cam cinematography. The 3D feels tacked on, dimming the already muddy picture and only sporadically showing off its effect. In one of the rare instances we see a vampire head-on (the terrifying design is hidden with shaky camera work and cutaways throughout the film), the 3D captures fangs popping outward. Great idea, barely utilized.

There are moments where Abraham Lincoln: Vampire Hunter's mix of fact and fiction is downright offensive (the final scene may be one of the most facepalm worthy implications of all time), but the bizarre acts of truthbending are a welcome change of pace to the lazy, banal superheroics of Bekmambetov's political hero. The execution is neither serious nor jokey enough to make the movie palatable — a near impossible result for a movie with that title.