Review Date: August 26th, 2011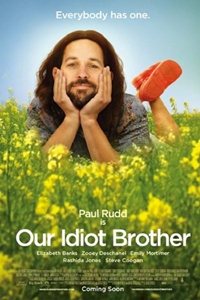 The man-child: a staple character for modern comedy and notoriously known for being played one-note. They get the laugh, they get out.

But turning the lovable goofball or zoned-out knucklehead into something more is no easy task—which makes Paul Rudd's work in Our Idiot Brother that much more impressive. Rudd's Earth-friendly farmer Ned (the closest thing to a new Lebowski we've seen since the original) finds himself down on his luck after being entrapped by a police officer looking for pot. After a stint in jail, he abandons his rural hippie commune for the big city, to take shelter with his three sisters. Unfortunately for Ned, his three siblings Liz (Emily Mortimer), Miranda (Elizabeth Banks) and Natalie (Zooey Deschanel) are as equally displaced and confused from the ebb and flow of life—albeit with severely different perspectives of the world.

Liz struggles to put her kid in private school and keep her marriage to documentary filmmaker/scumbag Dylan (Steve Coogan) intact. Miranda claws her way to the top of Vanity Fair's editorial staff and shuns her flirtatious neighbor (Adam Scott). Natalie stresses over her commitment issues with girlfriend Cindy (Rashida Jones), leaving little time or patience for Ned's bumbling antics. Sound like a lot of plot? While the manic lives of Ned's sisters click symbolically with his journey to get back on his feet, it makes for one sporadic narrative.

Like a series of vignettes, Our Idiot Brother never gels, but when director Jesse Peretz finds a moment of unadulterated Nedisms to throw up on screen, the movie hits big. Whether it's Ned teaching his nephew how to fight, accidentally romancing his sister's interview subject or infiltrating his ex-girlfriend's house to steal his dog Willie Nelson, the movie relies heavily on Ned's antics and its smart to do so. But thin throughlines for its supporting don't hold a candle to Rudd doing his thing.

And its a testament to Rudd's versatility—the man has done everything from Shakespeare and raunchy Judd Apatow comedies, after all—that makes the movie watchable. Rudd gives dimensionality to his nincompoop character, allowing darker emotions to creep in when necessary. There's a point in the film when Ned gives up fighting for his type-A sisters' affection and it's some of the best material Rudd's ever delivered. But like one of Ned's lit joints, Our Idiot Brother can quickly fizzle out, leading to plodding plot twists and sentimental conclusions. Mortimer, Banks and Deschanel are great actresses—here, they drift through their scenes and come out in the end changed. Because they have to.

Our Idiot Brother tries to take the Apatow model to the indie scene and comes through with so-so results. Only Rudd's able to find something to latch on to, to build upon, to warm up to. In an unexpected twist, it's the man-child who seems the most grown up.

Hollywood.com rated this film 3 stars.