Review Date: March 12th, 2012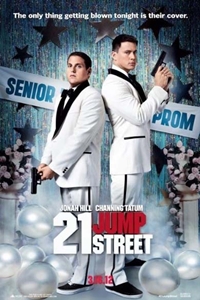 Pickles and ice cream. Bacon and cupcakes. Chocolate and potato chips. Channing Tatum and Jonah Hill. Some pairings shouldn't work, yet somehow the result is delicious – and in 21 Jump Street's case it's a hilarious surprise. There are so many reasons this buddy comedy shouldn't work, but it earns an A in practically every subject.

While remakes of old TV shows tend to get a bad rap – landing Sony Pictures' raunchy comedy in a bit of an uphill battle – it doesn't take long for the flick to separate itself from its source material. When it comes down to it, funny is funny and Jump Street is hysterical.

We find recent Police Academy graduates Schmidt (Hill) and Jenko (Tatum) fumbling through their first assignments, landing them in a resurrected undercover program from the '80s: enter Tom Hanson's (a.k.a. Johnny Depp) old stomping grounds. Like Hanson before them, Schmidt and Jenko go undercover at a local high school in an attempt to ferret out a teenage drug ring. The problem is high school isn't exactly what they remember, forcing Schmidt and Jenko to undergo those growing pains all over again.

Watching Hill and Tatum's characters fumble through their first few days in this alternate high school universe offers decent, but expected laughs. And while keeping things light and funny would be enough to arrest audiences for an hour and a half, Jump Street puts forth a little more effort. As the story escalates, the relationship between the starring duo grows and it's that surprisingly sweet core that punctuates the resultant humor. Throw in folks like Ice Cube, Brie Larson, Ellie Kemper, Rob Riggle and Dave Franco and you've got the hilarious benefit of a strong supporting cast.

Directors Phil Lord and Chris Miller keep the film moving at an easy comedic pace, integrating their own brand of colorful animation (and being that it's a drug plot, it fits) along the way, reminding us of our love for their vision in Cloudy With a Chance of Meatballs. It may not be cool to say so, but Lord and Miller have created a cop comedy that is – dare I say it – beautiful in its own twisted, psychedelic way.

With the stars and directors firing on all cylinders, the final piece of the puzzle is the script's irreverent humor. The plot is Bad Boys with training wheels, and it knows it. Screenwriter Michael Bacall delivers a script that skirts the line between unrelenting bravado and complete and utter failure, rendering Schmidt and Jenko as haphazard heroes. The film's humor, much like our protagonists, is simultaneously the loser and the badass.

In the end, an awkward mix of source material from the classic 1987 teen cop drama, two directors known for their innovative animated film, a hunky big screen heartthrob, and the king of dick-jokes somehow blend to create a film that's as charming as it is riotous. So riotous, in fact, that it earns its spot as the first great comedy of 2012.

Hollywood.com rated this film 3 1/2 stars.