Review Date: October 14th, 2011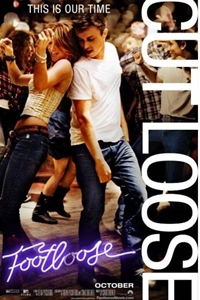 In Craig Brewer's (Hustle & Flow, Black Snake Moan) Footloose – a remake of the beloved 1984 film – newcomer Kenny Wormald plays Ren McCormack, a surly Boston teen forced to move in with his uncle's family in Bomont, Georgia, after the death of his mother. For the past three years, the youths of Bomont have suffered under a town ordinance barring all public dancing – the consequence of a tragic car accident that claimed the lives of five intoxicated high-school students leaving a dance party.

This vexes Ren. Like all red-blooded teenage boys, he wants nothing more than to dance, dance, dance, and he'll be damned if he'll let some reactionary (and undoubtedly unconstitutional) law prevent him from pursuing his passion. He vows to have it overturned in time for the students of Bomont to a mount a Senior Prom, placing him on a collision course with Reverend Shaw Moore (Dennis Quaid), the uptight local preacher who spearheaded the anti-dancing campaign after losing his only son in the crash.

An acknowledged Footloose-phile, Brewer's affection for the 1984 film is such that he scarcely strays from the original's script. Apart from an added opening sequence that depicts what was only revealed in the previous film through exposition, the narrative – and, indeed, a healthy chunk of the dialogue – remains essentially unchanged. Brewer's approach calls simply for retrofitting Footloose for a new generation: The choreography is more sophisticated, the outfits more revealing, the cinematography more polished, the cast more diverse. Memorable scenes have been suitably punched-up: The superfluous tractor race is now a superfluous bus race; Ren's iconic "angry dance" sequence is, well, angrier.

A dancer by training, Wormald won't invite many favorable comparisons to Kevin Bacon, who famously portrayed Ren in the previous Footloose, but he makes for a surprisingly endearing rebel-protagonist. Likewise, Brewer fills out most of the rest of the cast with lesser-known yet capable players. Dancing With the Stars' Julianne Hough plays Moore's fiery, troubled daughter Ariel, whom Ren hopes to pry from her brutish boyfriend, Chuck Cranston (Patrick John Flueger). A scene-stealing Miles Teller adds a deft comic touch as Ren's wisecracking and resolutely dance-averse sidekick, Willard.

With all its modern upgrades, Brewer's Footloose still retains its predecessor's earnest, unironic, and avowedly anachronistic ethos. As before, the storyline, steeped as it is in melodrama and sentiment, often borders on embarrassing. And yet, there's an irresistible allure to its prevailing tone of joyful exuberance, expressed most potently in the film's lively dance sequences. Sure, Footloose sings a familiar tune, but its got a good beat, and you can dance to it.

Hollywood.com rated this film 3 stars.