Review Date: January 5th, 2011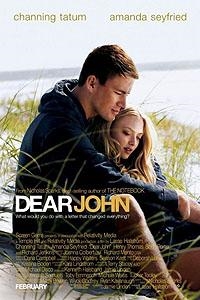 The phrase "from the author of The Notebook" often provokes instant, visceral reactions from those familiar with the famously sappy 2004 romantic drama, with positive and negative responses strongly divided along gender and marital status lines. It's one of four films based on the work of Nicholas Sparks, the John Grisham of romance novelists; the other three are 1999's Message in a Bottle, 2002's A Walk to Remember, and 2008's Nights in Rodanthe. The fifth Sparks-inspired romantic epic, opening in theaters just in time for Valentine's Day, is called Dear John, but it's so gloomy, so punishing, so unrewarding, it might as well be retitled Dear Job.

Not that director Lasse Hallstrom (The Cider House Rules) doesn't do his best to mitigate the melancholy, infusing Dear John with all the ingredients one expects from a Sparks adaptation: a pair of appealing young stars (Mamma Mia's Amanda Seyfried and G.I. Joe: The Rise of Cobra's Channing Tatum), a charming, camera-friendly southern locale (Charleston, South Carolina -- America's most polite city 11 years running!), a palette dominated by amber and khaki hues, a handful of wistful flashbacks, and a breezy, anodyne soundtrack. But beneath the film's gooey romantic sheen lies an inordinately dreary story that repeatedly declares, ''No, love won't find a way, actually."

When he isn't risking his life for a largely ambivalent country, U.S. Army Special Forces operative John Tyree (Tatum) assumes the equally thankless task of looking after his Asperger's-afflicted father (Richard Jenkins), who seems incapable of expressing anything other than a sort of pained reticence. One day, happiness arrives in the perky, sun-drenched form of Savannah, a well-bred college student with whom he immediately embarks on a passionate affair, an affair which only strengthens while John is deployed abroad, thanks to their daily ritual of writing cloyingly affectionate letters to each other.

But trouble soon arises for John and Savannah when they allow a man to come between them: Osama bin Laden, whose 9/11 attack on the World Trade Center has the secondary effect of initiating the demise of their seemingly indestructible relationship. After John leaves to fight in Afghanistan, Savannah falls prey to the apparently irresistable charms of Tim (Henry Thomas), a meek, cancer-stricken single father of an autistic boy, and soon marries him. (Evidently, stealing another guy's girl is perfectly allowable if you suffer from a terminal disease. Men, be warned: If your girlfriend starts hanging out at chemotherapy clinics, watch out.) Looks like the terrorists won after all.

(Minor Spoilers Ahead)

Dear John then pulls a pretty damn audacious narrative bait-and-switch, attempting to convince us that the film's central love story isn't really that of John and Savannah, who are never to reunite again, but rather that of John and his dad. Really? I didn't notice Richard Jenkins on any of the promo posters for the film. For some reason, the filmmakers felt this image wouldn't be as appealing on a one-sheet:

Go figure.

Amazingly, the father-son storyline proves even more depressing than the previous one. And while brave John endures the painful proceedings with the patience of Job, audiences may not be so accommodating.

Hollywood.com rated this film 2 stars.