Review Date: January 7th, 2011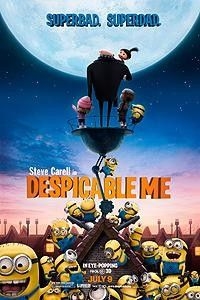 Non-traditional heroes have become a staple of animated films in recent years, supplanting anthropomorphic rodents and zoo animals as the protagonists du jour. Pubescent Vikings, crotchety old men, lonely robots, and giant green ogres may not be much of a draw in the live-action realm, but in the animated world, they're freaking gold. You can add to those prestigious ranks Gru, the lead character in Despicable Me, a terrific 3D-animated flick directed by Pierre Coffin and Chris Renaud and based on a story by Sergio Pablos.

An enterprising arch-fiend with a yen for stealing prominent tourist landmarks like the Times Square jumbo-tron and the Statue of Liberty (the Vegas version), Gru (Steve Carell) thinks he's at the top of his malevolent game, but his contented suburban existence is upended when he receives news that a youthful rival named Vector (Jason Segel) has managed to steal an entire Egyptian pyramid — a feat that renders his own audacious heists pedestrian in comparison.

His delicate villain ego badly bruised, Gru aspires to take back the spotlight by stealing the Moon, but before he can pull it off, Vector sabotages his efforts by swiping a device essential to Gru's scheme, which triggers a duel of ever-escalating firepower reminiscent of the old Spy vs. Spy cartoons featured in Mad Magazine (with weapons straight out of the Acme design lab). Continually stymied by his ubernerd nemesis, Gru is about to give up when he uncovers a fatal weakness: Vector is absolutely mad for the cookies sold door-to-door by a trio of impossibly adorable orphan girls, Margo (Miranda Cosgrove), Edith (Dana Gaier), and Agnes (Elsie Fisher). Eying the children as the key to infiltrating Vector's lair and succeeding with his moon-stealing scheme, Gru agrees to adopt them. Little does he know, however, that they've unleashed on him a particularly virulent strain of cuteness that is already making its way toward his heart.

As the voice of Gru, Carell speaks with a husky, Russian-sounding (his true ethnicity is never revealed) accent that drips with exasperation and disdain for the naive simpletons that populate his idyllic suburban neighborhood. At first the idea of casting the Office star in the role seems counter-intuitive: Why go to the effort and expense of hiring one of the most popular comedy actors working today as the lead in your $100+ million (estimated) film, only to conceal him in a voice nearly unrecognizable to his millions of fans?

Shortly into Despicable Me, the answer becomes clear: because Coffin and Renaud, idealistic young fools that they are, hired Carell for his talent, and not for his star power. And it's a good thing they did. The same incomparable pathos that turned incompetent corporate stooge Michael Scott into perhaps the best-loved sitcom character ever works its magic on Gru, making the story of his transformation from brooding misanthrope to dedicated father as emotionally engaging as it is funny.

A simple story, told exceptionally well: It's the modus operandi for today's successful animation studios, and it's expertly carried out in Despicable Me. The plot thins out at certain points and at times borders on predictable, but its wit and warmth and vibrant animation (the film's colorful gothic aesthetic was inspired by artists Charles Addams and Edward Gorey) — rendered in actual 3D, not the fake variety so popular these days with audience-raping studio profiteers — carry it through those brief creative lulls.

Hollywood.com rated this film 4 stars.