Review Date: April 3rd, 2009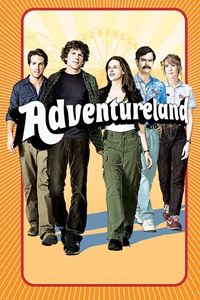 WHAT IT'S ABOUT?

Set waaaaaay back in 1987, Adventureland revolves around the still virginal James Brennan, a smart college grad whose dashed European vacation plans and career desperation lead him to take a summer job running games and handing out crummy stuffed animals at a Z-grade amusement park. It's there that he falls hard for his colleague, Em, a pretty but emotionally confused girl who is having a secret affair with older-married-guy Mike Connell, an aspiring musician and the park's resident handyman. Over the course of the summer, the employees of this pathetic Disneyland party hard, smoke weed and most importantly learn about love and relationships while being forced to hear "Rock Me, Amadeus" played continuously on the park's piped-in music system.

WHO'S IN IT?

The whole cast is superb, led by Jesse Eisenberg (The Squid and the Whale, The Education of Charlie Banks), who is simply terrific in a breakthrough performance that proves Michael Cera is not the ONLY one who can play nerdy-but-thoughtful young guys trying to navigate their life's path down the winding road of uncertainty. Eisenberg, as James, deftly manages writer/director Greg Mottola's (Superbad) droll dialogue with effortless timing and delivery. Kristen Stewart, as Em, shot this role before Twilight and is sensational — her best screen work yet. As his slacker best friend, Joel, Martin Starr underplays it nicely creating a three-dimensional character in just a few scenes. Hot newcomer Margarita Levieva is hysterical as Lisa P, the park's resident tease and gossip while SNL stalwarts Bill Hader and Kristen Wiig do their usual flawless comedic thing as the Adventureland owners. Ryan Reynolds is the perfect jerk as the joint's self-appointed married skirt-chaser.

WHAT'S GOOD?

Expectations might be: It's just another gross-out teen comedy. But the real surprise is the sweet nature of the script and strongly-etched characters. Working in the world's worst job is a good starting place for Mottola's musings on love and relationships — and it's just as pertinent now as in the time the film is set. For those who still have a jonesin' for all things '80s, the nifty soundtrack full of choice items from the era is retro-cool (except for that "Rock Me Amadeus" tune).

WHAT'S BAD?

It's a key plot point, but it's hard to see why Stewart's character would get so attached to such a slimy married guy like the one Reynolds plays.

FAVORITE SCENE:

A restaurant scene where James pours his heart out to Em and reveals his virginity for the first time is very funny and painfully honest.

BEST DOWNER LINE:

In giving Em a custom-made gift, the morose James says: "I made you a tape. These are my favorite bummer songs — pit of despair stuff."

Hollywood.com rated this film 3 1/2 stars.