Review Date: February 20th, 2009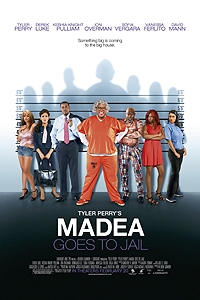 After his recent more somber fare, it's nice to see Tyler Perry go back to his comedic roots -- well, sort of.

Story

As with any Tyler Perry movie in which he plays his alter-ego, gun-totin' grandma Madea, there's always the juxtaposition between the hilarity and the serious. Madea Goes to Jail is no exception. While Madea fights the law with every breath in her body -- and the law wins, at least for a little while -- the more serious side of the movie sees the fast-track Assistant DA Joshua Hardaway (Derek Luke) come face-to-face with his past when his old college friend Candy (Keisha Knight Pulliam), now a drug-addicted prostitute, shows up on his court docket. There's some bad history there, and Joshua wants to atone for his mistakes by trying to help Candy get straight. But it ain't easy, not with this girl. No worries, Madea is on the case.

Acting

When asked what happens to Perry when he puts on the wig, he replies, "She just comes. The minute I hear that zipper go up on the fat suit, she comes." It is truly an amazing transformation for the multi-hyphenate, who created this character on stage. Perry's skill at improvisation comes shining through, not only when he's playing Madea but also when he's playing Uncle Joe, Madea's cantankerous older brother. You're always wanting more of them, but alas the meat of the movie revolves around Luke and Pulliam, who both do an adequate job conveying their somewhat one-note characters. Viola Davis also makes an appearance as a reformed drug user-turned-minister -- an odd choice for the Oscar nominee, but she certainly adds some weight.

Direction

When Perry wears the multiple hats, he must keep the behind-the-camera action as simple as possible. You can imagine him just whipping off the wig, putting on a ball cap, walking over to Davis and Luke to give them a few ideas and then start shooting. He also has an unwavering dedication to what he feels is the most important part to his movies: the messages about strong familial ties, faith and redemption. But really, for my money, it's just worth it to see Perry, as the side-splittingly hilarious Madea, go toe-to-toe with Dr. Phil in a court-appointed anger management therapy session. Priceless.

Bottom Line

Hollywood.com rated this film 3 stars.