Review Date: November 4th, 2008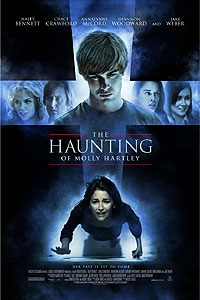 Despite a promising beginning, this hoary bit of Halloween hokum runs out of both inspiration and momentum at the midway point and ultimately winds up a disappointment.

Story

As the film's title indicates in no uncertain terms, our heroine, teenager Molly Hartley (Haley Bennett), is haunted by a tragic past that keeps coming back to torment her. Attempting to acclimate to a new school (Huntington Prep), Molly must deal with new classmates and also recurring bouts of nosebleeds and hallucinations -- particularly of her wild-eyed mother (Marin Hinkle), who had previously tried to stab her to death, claiming that she was trying to save her from some sort of birthright. "The darkness is coming for you," said Mom before plunging a pair of scissors into Molly's chest. What's really going on? Are Molly's hallucinations of a psychotic or a supernatural nature? It takes a long while to get to that point, by which time the answer should be obvious ... and long after audience interest has dwindled severely.

Acting

An interesting and attractive actress, Haley Bennett (Music and Lyrics) doesn't necessarily project the vulnerability that her tormented character would call for, but she seems capable of carrying a film. Unfortunately, this one lets her down -- and the problem lies entirely in the story. Everyone else in the cast is saddled with one-dimensional characters: Jake Weber as Molly's perennially-worried dad; Chace Crawford as the resident hunk; Shanna Collins as a born-again classmate; and Shannon Marie Woodward as a more rebellious classmate. Ron Canada, as the school superintendent, is on and off the screen so fast one wonders why he bothered at all. There is, however, a nice if smallish turn by Nina Siemaszko as the school's guidance counselor, who's clearly got her eye on these goings-on.

Direction

The Haunting of Molly Hartley marks the feature directorial debut of Mickey Liddell, who previously toiled on the small screen as a producer of Everwood and Jack & Bobby, two shows with prominent teenaged characters -- so he has experience in the field. There are some interesting camera angles, and technically the film is competent enough, but the story unravels at the midway point, and Liddell is unable to stop the skid. By the film's (foregone) conclusion, it's begun to telegraph its shocks and its plot twists with increasing regularity. It's well-made, but it's also flat. There's not a particularly high body count, but there's obvious editing in some of the more violent scenes -- clearly an attempt to earn the film a PG-13 rating, which is a far friendlier proposition at the box-office, where this should earn some decent coin from the horror faithful.

Bottom Line

Hollywood.com rated this film 2 stars.