Review Date: June 27th, 2008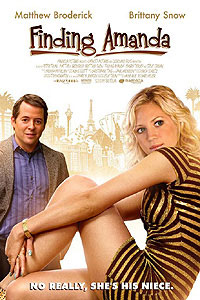 Making a brief stop in theatres on its way to its rightful home on DVD, this cloying comedy is barely enlivened by its talented stars Matthew Broderick and Brittany Snow. They both deserve much better.

Story

Taylor Peters (Matthew Broderick) is a television writer-producer stuck on a dog of a sitcom and not happy about the direction of his life. After finally licking his recreational drug and drinking habits, his marriage to Lorraine (Maura Tierney) is on the rocks due to his inability to quit his compulsive gambling tendencies, especially at the track. When the family learns that 20 year-old niece Amanda (Brittany Snow) is living in Vegas and working as a prostitute he finds the perfect excuse to make things right with the missus. So he drives to Vegas with the intention of finding Amanda and forcing her to come back to L.A. and enroll in a rehab program in Malibu. Sounds like a good plan but the temptations of Vegas prove too much for Taylor as he finds himself up to his neck in quicksand, taking on his errant niece, her loser boyfriend Greg (Peter Facinelli), the low-rent criminals she "hooks" for and the ever-present casinos beckoning him and his dwindling bank account.

Acting

If Finding Amanda is any indication, Broderick's film career is more in need of resurrection than even the character he plays here. This is the kind of low-brow material that would make a bland TV movie, if it weren't jacked up to "R" rating levels by intentionally sleazy dialogue and dumb-ass characters. Broderick, such a fine actor, is defeated by a script that makes no use of his considerable comedic talents. This moronic tale sticks Broderick's character in unlikely situations and broad circumstances that make it hard to empathize with a guy who just can't help himself--or anyone else around him. Snow (Hairspray) is a sprightly, fun actress but Amanda is beyond annoying, making her uncle's efforts to save her from herself ring false. Unfortunately, there is zero chemistry between the leads, you just never believe for a moment these two have any past family history. Tierney whines through the standard wife role, playing most of her scenes on the other end of a phone line. Steve Coogan turns up as a casino enabler friend of Taylors who does him no favors when his "habit" starts careening out of control again. Facinelli as Amanda's dead-end boyfriend is such a ridiculous caricature you have to wonder why she is with him in the first place.

Direction

Writer/director Peter Tolan (TV's Rescue Me) has an extensive resume in both TV and film, so an inside showbiz tale about the downward slide of a TV writer would seem to be a snap. After all, the set up is ripe for wit and a satirical edge only an insider like Tolan can bring, but his script just goes nowhere and the characters he has created don't seem to be coming from a real place. Perhaps he was just too close to the material to see how little of it works in any coherent way. This type of (attempted ) character comedy is tough to pull off by the most talented of filmmakers, but Tolan sadly gives his cast nothing to hang on to, basically letting them all twist in the wind. The mediocre dialogue is not helped by Tolan's own lifeless direction. There is no pizzazz and Vegas has never looked more drab or unexciting than it does here. Instead of Finding Amanda, better to look for something else to see.

Bottom Line

Hollywood.com rated this film 1 1/2 stars.