Review Date: March 13th, 2009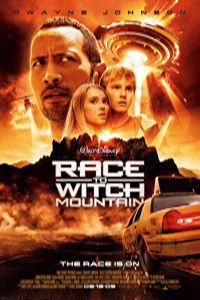 Story

WHAT IT'S ABOUT?

Disney takes another whack at "Witch Mountain" having found success more than three decades ago with Escape to Witch Mountain and its sequel. Now the story has been contemporized and Bourne-ified to create what is essentially a nonstop, breathless race across long winding roads and two worlds competing for superiority. As in the original, two children with extraordinary powers seek to save Earth and their own planet from evil forces. They waste no time jumping into a hapless Las Vegas taxi driver's cab ordering him to put the pedal to the metal. It soon becomes clear the secret to their quest lies somewhere in Witch Mountain, a place where top-secret government activity has been going on for years. With their own alien military leaders in favor of a violent takeover and the U.S. leaders ready for confrontation, these two teens, Sara and Seth, plus their cabbie, Jack Bruno, race against time to find a better solution for both of their worlds.

WHO'S IN IT?

Fast becoming Disney's go-to guy, Dwayne Johnson (formerly known as The Rock) follows up his hit football comedy, The Game Plan with another family-oriented tale in which he, again, gets upstaged by kids. His Jack Bruno proves the perfect foil this time as he gets to be funny, cynical, commanding and heroic all in the course of about 97 minutes. As events careen out of his control, Johnson grows increasingly exasperated and that's part of the fun. As Sara, a smart extraterrestrial teen, Anna-Sophia Robb (Bridge to Terabithia) is ideally cast bringing a nice believability to the role without falling into stereotypes. Seth is well played but with one-note earnestness by Alexander Ludwig, who still comes off a little too robotic at times. As an astrophysicist who gets caught up in the trio's predicament, Carla Gugino is a delight. Lead among the antagonists is Irish actor Ciaran Hinds who is properly mean and heartless when it comes to aliens of any stripe. Director Garry Marshall has an amusing cameo as a self-styled UFO expert, and there are brief, but welcome, appearances by the all-grown-up Kim Richards and Ike Eisenmann, who played the '70s incarnation of the alien kids in the earlier films. Richards' face-to-face meeting with Robb is especially sweet.

WHAT'S GOOD?

The filmmakers wisely keep the retro tone of the book and earlier films while using state-of-the-art visual effects and movie magic. A lot of sci-fi movies have come along since Escape to Witch Mountain premiered in 1975 – see Star Wars, Close Encounters and E.T. And while Witch Mountain circa 2009 won't do anything to make us forget those classics, it's good fun -- like welcoming back an old friend.

WHAT'S BAD:

There's no complexity in sight, and the story isn't given a lot of time to breathe. We barely get to know Jack Bruno before the kids have hijacked his cab and the whirlwind begins. A little more exposition and plot development would have been welcomed for those with an attention span beyond two minutes.

FAVORITE SCENE:

There are lots of first-rate action set pieces including a collision with a train and a chase through a Vegas casino, but the climactic spaceship battle can't be topped. Kids are going to eat this sequence up.

BEST LINE:

After showing Jack her alien prowess for the first time by making various items in his cab float in mid-air Sara says, "you humans don't move objects because you don't develop your full brain capacity". Bruno replies, "No, I don't do it because it's kind of creepy."

Acting

Direction

Bottom Line

Hollywood.com rated this film 3 stars.