Review Date: September 13th, 2008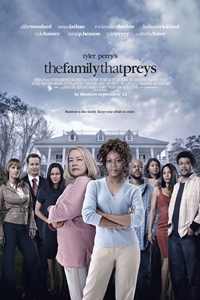 Even without shoehorning his onscreen alter ego Madea into the drawn-out proceedings, writer-director Tyler Perry's offers yet another dull, obvious and repetitive sermon on the importance on family values.

Story

They may come from different worlds socially and financially, but working mom Alice (Alfre Woodard) and multi-millionaire Charlotte (Kathy Bates) have been best friends for decades. So when Alice's social-climbing daughter Andrea (Sanaa Lathan) marries construction worker Chris (Rockmond Dunbar), Charlotte foots the bill for a wedding at her mansion. But Charlotte also wants to punish her conniving son William (Cole Hauser) for eloping with a weak-willed woman she abhors, so she throws the wedding she once planned for William. Four years later, Andrea and Chris are both working for Charlotte's construction company, which William runs. Chris dreams of starting his own business with Andrea's brother-in-law Ben (Perry), but Andrea doesn't think her blue-collar husband can make it on his own. Besides, she's too busy doing William's bidding as he plots to wrestle control of the company away from Charlotte. But the tough-as-nails Charlotte isn't going to down without a fight. If this sounds a bit soapy, it is. In true The Bold and the Beautiful fashion, there's plenty of corporate backstabbing, (unseen) bed-hopping, sibling rivalries, and life-changing revelations that threaten to tear apart Alice and Charlotte's enmeshed families. It's all very predictable stuff--you'll have no trouble guessing who's sick, sleeping around, or ready to crack--though the momentous third-act surprise forces Perry to tie up loose ends in a contrived and unsatisfying way.

Acting

It's safe to say The Family That Preys features the best cast Perry's worked with. Regrettably, he can't break himself of his annoying tendency to compel his actors to underplay their roles. Even such old pros as Bates and Woodard seem oddly subdued. In Bates' case, that's not too bad considering she gives Titanic-sized performances when left unchecked. But it comes as a welcome sight to see Bates break free of Perry's bonds and get loud and lively during a Thelma & Louise-ish road trip. Woodard, sadly, really can't do too much to make the saint-like Alice come across as anything but a stick in the mud. Lathan is so frosty that your body temperature drops 20 degrees whenever she and a barely audible Hauser cross paths. As for Prison Break's Rockmond Dunbar, it's a shame that the sympathy he engenders for the unappreciated Chris evaporates the second he commits an act that's not just inexcusable, it's unwarranted. Perry, though, has a hard time handling Taraji P Henson, who is the closest to Madea that The Family That Preys has. She's smart, sassy and scrappy. Not that we miss Perry and his housedress. There's no place for his pistol-packing big mama in The Family That Preys. In fact, Madea's comedic presence would have severely disrupted the serious tone that Perry maintains throughout The Family That Preys.

Direction

What more can Perry say about the dynamics of the African American family—poor or affluent—in today's America that he hasn't already said? Ah, yes, Perry's never before seen the need to tackle the issue of intolerance in a direct manner. There have been hints that some of his protagonists have suffered as a result of institutional racism, but he'd rather spread the Lord's word than yelling in the face of bigots. But early in The Family That Preys, as Andrea questions Charlotte's motives for throwing her a storybook wedding and accuses her mother of "playing Stepin Fetchit," there's optimism that Perry finally wants to do more than bash us over the head with the Bible. After all, Perry's sixth dramedy is the first to feature major white characters. Alas, The Family That Preys turns out to be just like every Perry preachy production before it. Race doesn't come into play as Perry offers familiar observations on dysfunctional family feuds in his customary but uninvolving point-and-shoot style. Maybe Perry simply feels now is the time to broaden his appeal by making Charlotte and her family white, which is fine. And it's his prerogative not to address racism or any other inflammatory social issue now or ever. Regardless, as one of the leading voices in black cinema, Perry has wasted a great opportunity to speak his mind about the state of race relations at a time when an African American finally has a legitimate chance of winning the U.S. presidency.

Bottom Line

Hollywood.com rated this film 2 stars.