Review Date: January 30th, 2009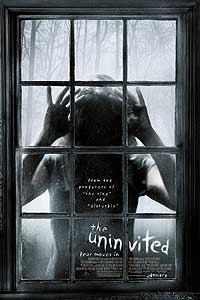 The twists and turns in this nifty little psychological thriller will send chills down your spine and keep you guessing.

Story

It may sound familiar and indeed is a remake of the Korean hit Changhwa, Hongryon, but The Uninvited still manages to be a truly frightening experience with a 100 percent certified shocker of an ending. It all starts when Anna (Emily Browning), home from a stint in a psycho ward, begins investigating her mother's unexpected death. Adding to her woes is her clueless father's (David Strathairn) engagement to a not-so-nice nurse (Elizabeth Banks), who arouses the suspicions of both Anna and her sister Alex (Arielle Kebbel) – and all hell breaks loose.

Acting

Young Australian Browning (Lemony Snicket) has just the right creep factor to make her troubled Anna properly perplexing and intriguing to watch. We're with her all the way as she becomes haunted by her mother's ghost -- and that's crucial to a roller-coaster ride like this one. Banks' seemingly evil nurse turned soon-to-be stepmother is perfectly pitched, even if the cards are clearly stacked against her.Usually a fine actor, Strathairn could do this one dimensional role in his sleep – and he does.

Direction

English directing duo the Guard Brothers make a promising feature debut by keeping the slowly developing events plausible and measured in order to really pack a wallop in the final reel. Clues from the well-crafted , if comfortably familiar screenplay are dropped at opportune moments, but the movie keeps its share of surprising turns all under its hat until the big reveal.

Bottom Line

Hollywood.com rated this film 3 stars.