Review Date: April 30th, 2009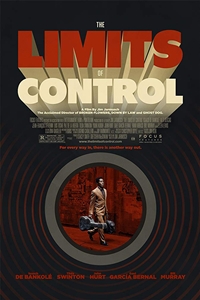 WHAT IT'S ABOUT?

A mysterious loner with a murky, criminal past arrives in Spain ostensibly to carry out a mission, though it's not quite clear exactly what that might be. He walks (and walks, and walks, and walks) through various city streets, towns and fields across the country on a journey that may be partially a dream or may be something else.

WHO'S IN IT?

Jarmusch veteran Isaach De Bankole (Night on Earth, Ghost Dog, Coffee and Cigarettes) is saddled with the role identified only as the Lone Man. Mainly, he keeps returning to the same places and having the same conversations with people who remind him that "those who know they're bigger than the rest should go to the cemetery." Others ask him questions in Spanish (whether he understands any Spanish is unclear), to which he always replies in the negative. It's an oddly silent, deadpan performance written and played in one dimension. Other Jarmusch regulars also turn up, including Bill Murray (for five minutes near the end), John Hurt, Youki Kudoh, Alex Descas and Tilda Swinton. If there was one reason to see this drivel, it's for Swinton's trippy performance in blonde wig and big dark glasses — a lively cameo filled with filmic references from Rita Hayworth to Michelangelo Antonioni. The cast is rounded out with other fine actors whose talents are completely wasted, including Gael Garcia Bernal, Hiam Abbass and Paz de la Huerta.

WHAT'S GOOD?

Spain looks like a nice place to visit.

WHAT'S BAD?

The Limits of Control is the kind of indulgence some filmmakers fall into when they feel they want to "stretch." Unfortunately Jarmusch, who has done some very interesting and distinctive film work, including Down by Law, Stranger Than Paradise and Broken Flowers, just doesn't have a story worth telling here. Experimental is fine, but there should be some semblance of a coherent theme or point of view. Instead, we mainly watch this guy walk in a dreamlike state for about two hours, trying to figure out the meaning of a matchbox and repeatedly returning to the same waiter at an outdoor café to order two espressos in separate cups.

MOST MEMORABLE LINE OF DIALOGUE:

It's a three-way tie:

"Wait three days until you see the bread. The guitar will find you."

"Among us, there are those who are not among us."

And finally …

"Sometimes there are films where people just sit there." (You got that one right!)

NETFLIX OR MULTIPLEX:

Netflix. At least if you snore through most of this, you won't be disturbing anyone else.

Hollywood.com rated this film 1/2 star.