Review Date: March 21st, 2008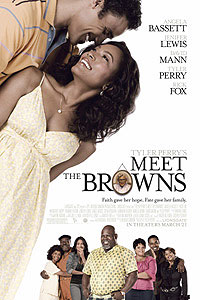 And so, the unsolved mystery continues into 2008: What is it about Tyler Perry's big-screen soap operas (or the man himself) that is so damned appealing?!

Story

Brenda (Angela Bassett) is a single mom living in the big city; thus it goes without saying that she is struggling mightily to make ends meet for herself and her three kids--Michael (Lance Gross), Tosha (Chloe Bailey) and Lena (Mariana Tolbert)--each of whom has a different father. Brenda's problems come to a head when she goes in to work only to learn that her office has been shut down and moved to Mexico. Now it's not so much her young daughter's daycare that she can't afford; it's electricity and food! With literally nothing else to lose, Brenda takes the advice of her friend (Sofia Vergara) and heads down to rural Georgia, where, Brenda just found out, her estranged father is going to be buried. It is there that she also learns about her long-lost, gigantic family and her father's clandestine life. Most importantly, though, she meets a very persistent charmer (Rick Fox) who may or may not change her life in more than one way.

Acting

Academy Award nominee Angela Bassett takes a huge step down in giving in to the hit machine that is Tyler Perry. Her bad decision to take on the role of an emotionally and financially battered single mom turns into an equally subpar performance. She is overly made-up, both character-wise and physically--Brenda appears better-suited for one of Perry's stage productions--and Bassett greatly overacts, albeit somewhat appropriately for such a melodramatic film. Former Los Angeles Laker/Mr. Vanessa Williams Rick Fox, playing a somewhat fictional version of his own life (i.e., retired basketball star), continues to attempt, in vain, to prove himself as an actor and not just a jock. Unfortunately, he again comes off as an athlete trying his hand at acting, with an emotional range and vocal monotone that make Shaquille O'Neal seem worthy of another acting gig. The lone bright spot is House of Payne (Perry's TBS sitcom) star Gross, who, as a high school basketball star/super-son, is thankfully unwilling to indulge in the overacting that surrounds him. In supporting roles, the countless Brown family members are good for a few laughs but little else. And Perry himself pops up as the beloved Madea character for what can only be considered a cameo.

Direction

As sure as a new spoof from the Scary Movie guys, an under-the-radar Woody Allen film and a Saw flick, Tyler Perry will put out at least one film a year these days. Between his own movie productions, acting gigs on the side and hit TBS sitcom House of Payne, Perry is clearly the busiest man in showbiz--gotta give him that. What's not so clear, however, is how he has such a loyal, fervent fan base. Meet the Browns, like every other movie he's written and/or directed (five of them), is very occasionally silly-funny or touching, but otherwise verges on absurd, and not the good, There Will Be Blood kind of absurd. It's everything that probably makes Perry's plays--which are the basis for almost all of his work and his subsequent meteoric Hollywood rise--successful: histrionics, theatrics, melodrama and preaching. None of those elements translates to anything more than an uneven film, yet apparently throngs of moviegoers couldn't disagree more--and hey, at least it's a (welcome) change from almost everything else at the local multiplex.

Bottom Line

Hollywood.com rated this film 2 stars.