Review Date: February 1st, 2008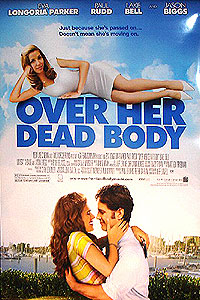 As far as romantic comedies go, the hackneyed Over Her Dead Body falls more towards the bottom of the heap--save for one bright spot: ingénue Lake Bell.

Story

Over Her Dead Body seems to be loosely based on an old Noel Coward standard, Blithe Spirit, about a couple haunted by the man's first wife after a medium unleashes her spirit in a botched séance. In Dead Body's case, the guy's name is Henry (Paul Rudd), a kindly veterinarian still devastated after his fiancée, Kate (Eva Longoria), was crushed by an ice sculpture on their wedding day a year ago. Henry's sister Chloe (Lindsay Sloane) is desperate to bring her brother some happiness and arranges a meeting with perky psychic Ashley (Lake Bell), in hopes that she might shed some, er, light on the subject and help the skeptical Henry move on. But as she finds herself more and more attracted to Henry, and vice versa, Ashley also inadvertently summons the ghostly Kate, who decides if she can't have her man, no one will.

Acting

Most romantic comedies are some kind of regurgitation of other similar plot lines--it's just the nature of the beast. But what a good romantic comedy has is appealing leads and a quirky through line to make it fresh. In that regards, Over Her Dead Body gets it about a quarter right: It's got a likable lead actress. Up-and-comer Bell (TV's Boston Legal) is a real find. As the down-to-earth Ashley, the actress rarely ventures into the clichés of her role, rather finding her own rhythms and displaying a rather klutzy, sweet and slightly nutty disposition. And she completely clicks with Rudd--a veteran of the Judd Apatow improv gang--at least in terms of the comedy. Although he seems to be slumming it a bit in Dead Body, Rudd still can't help but riff on his lines, and Bell is right there with him. Unfortunately, the stiffer Longoria (pun intended) pales in comparison and is delegated to playing the same conniving and bitchy role that has made her a hit on Desperate Housewives. Then there's the completely wasted sidekick characters: Sloane (The In-Laws) as the snarky sister and American Pie's Jason Biggs, as Ashley's catering partner who pretends to be gay so he can stay close to Ashley. Where's sidekick-best-friend extraordinaire Judy Greer (27 Dresses) when you need her?

Direction

Besides Lake Bell's performance as its one saving grace, Over Her Dead Body gets it wrong in just about every other aspect. Writer Jeff Lowell (John Tucker Must Die) decided to make Dead Body his directorial debut as well--but the drawbacks lie in his script. The directing part is easy with a film like this: Just point and shoot, for the most part. But Lowell isn't able to create anything fresh with the stale subject matter, dishing out the same old, same old. The best stuff are the scenes between Ashley and Henry, but you've got to think that was mostly improvisation between the two actors; it has to be, since the rest of the dialogue is so stilted. Let's just say Over Her Dead Body will be much better served as a DVD rental with a plate of spaghetti and a bottle of wine. Make that two bottles of wine--it'll be funnier that way.

Bottom Line

Hollywood.com rated this film 1 1/2 stars.