Review Date: December 25th, 2008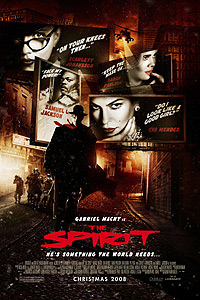 The Spirit is a visually exciting and surprisingly tongue-in-cheek big-screen rendition of Will Eisner's comic book series.

Story

Who is that masked man? Once upon a time, he was Denny Colt (Gabriel Macht), a rookie cop killed in the line of duty. Now he's The Spirit, the perennially beleaguered and battered hero of Central City, who can't seem to ever die. No matter how brutal the licking, he keeps on ticking. Such invincibility irks the Spirit's nemesis, The Octopus (Samuel L. Jackson), a megalomaniac who craves the same sort of power and would like nothing better than to crush Central City underfoot before setting his sights on complete world domination. Ever a ladies' man, even when teetering on the edge of death, our hero is always surrounded by a bevy of beauties, including childhood flame Sand Saref (Eva Mendes), now a crafty jewel thief; Ellen Dolan (Sarah Paulson), the foxy physician who carries a torch for him; Silken Floss (Scarlett Johansson), who gets her kicks aiding and abetting the Octopus; fast-talking rookie cop Morgenstern (Stana Katic), whose definitely got her eye on the Spirit; and Plaster of Paris (Paz Vega), whose loyalties, like her outfit of choice, can be rather skimpy. It's a wonder the Spirit has any time to fight crime, given how much time he's making with the ladies. But who can blame him? In many ways, and like so many comic-book movies, story is distinctly a secondary consideration to mood, atmosphere and attitude -- and The Spirit's got 'em all in spades.

Acting

Channeling such film noir favorites as Humphrey Bogart and Robert Mitchum, Macht does a nice job as the gruff and tough Spirit, occasionally pondering his fate when he's not saving the day. As the Octopus, Jackson doesn't so much chew the scenery as make a seven-course meal out of it. Restraint is not in this film's vocabulary. There are also plenty of opportunities for the film's luscious ladies to strut their stuff, which they do with good humor and even better outfits. Everyone on hand plays perfectly in sync with the spirit (no pun intended) of the proceedings, including Dan Lauria as the crusty police commissioner and Louis Lombardi, in multiple roles as the Octopus' dim-witted henchmen, all of whom have apparently been cloned from some low-IQ DNA. Look also for screenwriter/director Frank Miller as a cop who loses his head.

Direction

In his first solo stint as director, Frank Miller works overtime to capture the visual style of Eisner's comic book, and thanks to the advancements on CGI, he has a massive palette in which to exercise that. The Spirit is eye candy -- at heart, what comic book movie isn't? -- but it makes no bones about it and no aspirations beyond it. It's meant to be a cheeky diversion and, on that score, it makes the grade. The visual panache of the film is indeed impressive, and there's a refreshing sense of self-mockery to the proceedings. However, those who prefer their comic-book heroes rendered in a more straightforward fashion may be taken aback by the sardonic approach. Here, characters are just as apt to make a wisecrack or toss in a non-sequitur, as deliver an important piece of expository dialogue. It will be interesting to see how the film performs at the box office, if audiences embrace that approach, and if, indeed, this becomes the foundation for the latest superhero franchise. Worse things have happened.

Bottom Line

Hollywood.com rated this film 3 stars.