Review Date: December 21st, 2007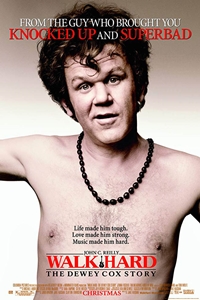 It's a little disappointing to see Apatow & Associates produce a movie that, besides the rating and genre, is somewhat of a fundamental about-face. But on the spoof scale, Walk Hard is still a considerable success.

Story

While clearly a minority, some people still need the following clarification: Dewey Cox (John C. Reilly) is not, and never was, a real person, and Walk Hard is not his biopic. Going in with the knowledge that this is, in fact, a spoof music biopic (primarily taking aim at Walk the Line) makes the movie a whole lot more enjoyable. Much like Joaquin Phoenix's Johnny Cash in Walk the Line, Dewey Cox is set to play a concert in the opening scene, but he, too, first needs to reflect on his whole life. It all started in Springberry, Alabama, in the 1940s, when a young Dewey (Conner Rayburn) accidentally halves his brother (Chip Horness) with a machete. It's an event that will both haunt Dewey--aided by his dad's (Raymond J. Barry) constant reminder that that "the wrong son died"--and inspire him. The death also teaches Dewey that, even at a young age, he can play the hell out of a downtrodden blues ditty, which leads him to follow his dreams of a career in music. And it's a career that, again, plays out like a satire of Cash's watered-down biography in Walk the Line--complete with drugs aplenty, famous encounters (i.e. a kung-fu Elvis, as satirized by White Stripes frontman Jack White), tantrums involving sinks, and a wife (Kristen Wiig)-vs.-girlfriend (Jenna Fischer) mess.

Acting

It's a backhanded slap to the face of John C. Reilly that his first headlining role is as a mock-rocker, a hyperbole of a real star, but Reilly has shown that he is a real showbiz trooper. While Will Ferrell, whom Reilly seems to tap into, might've been a slightly better fit, the well-traveled actor does great work with a much tougher character to play than meets the eye. Like his real biopic-actor counterparts, Reilly sings the songs and dons the dialect, but it's his ability to do so with a constant side of satire that makes this a fantastic performance; such a dichotomy also might explain his suprising Golden Globe nod. Aside from The Office star Fischer--in a great, versatile, sexy turn (and her biggest role to date) as the pseudo-June Carter to Reilly's Johnny Cash--and SNL's Wiig as Cox's forgotten wife, cameos comprise Walk Hard's supporting cast in the best imaginable way. Just about everyone from NBC's cool shows (30 Rock's Jack McBrayer, The Office's Craig Robinson, SNL's Chris Parnell/Tim Meadows) and the Judd Apatow Comedy Troupe (David Krumholtz, Harold Ramis, Martin Starr) pops up. But the movie's best cameos come from Justin Long, Jack Black, Jason Schwartzman and Paul Rudd as (probably improvised) acid-trip versions of George Harrison, Paul McCartney, Ringo Starr and John Lennon, respectively.

Direction

These days it seems Judd Apatow could merely be friends with someone who's working on a movie and it becomes an "Apatow production," but his fingerprints are all over Walk Hard. The comedy tastemaker co-wrote and produced this spoof with his Freaks and Geeks cohort Jake Kasdan (Orange County), who directed; however, while his sense of humor is apparent here, his imagination isn't. The very nature of a spoof clashes with his brand of realistic comedy that has become the toast of the film industry, and the result is funny but lacking creatively--rather un-Apatowian. On the bright side, Walk Hard's best moments are ones he probably thought up, namely an unexpected penis scene that'll make you laugh-squirm, and the tunes are so catchy--despite being laden with double entendres--that they, and not the jokes, will be stuck in your head. In fact, the fake-song lyrics are as clever as Apatow dares to go. Direction-wise, the movie, like all spoofs, doesn't exactly require an Orson Welles to make it work, but Kasdan does a solid job of separating the real from the faux. Plus, the music scenes probably took more work than their comedy lets on. Otherwise, though, it's not like there's anything here to somehow render Kasdan superior to the Scary/Epic/Date Movie spoofers.

Bottom Line

Hollywood.com rated this film 2 1/2 stars.