Igor
(PG)

★★★

Review Date: September 19th, 2008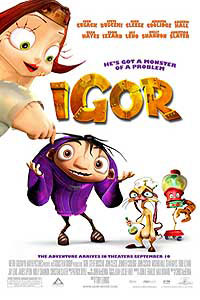 Igor may not be on the level of a Wall E, but taken on its own terms, it's a monstrously funny and cleverly animated delight that offers up genuine fun for the whole family.

Story

Yes, Tim Burton has covered this milieu before in animated 'toons like The Nightmare Before Christmas and Corpse Bride, but there's a certain hip-factor to this amusing flick set in the world of creepy science labs as an homage to the Frankenstein and Dracula films of the '30s. The film's central character Igor (of course) is a frustrated assistant, who is dying to become a scientist in his own right and knows he has the smarts for it. Finally, when his very mean mad scientist dies just before the annual Evil Science Fair, the humpbacked little guy gets his big moment--with the help of sidekicks Brain (in a jar--and not too brainy at that) and Scamper, a bunny with a death wish after Igor saves him from the brink of becoming permanent road kill but makes him immortal. Igor unveils his piece de resistance, a creation that unfortunately turns out to be less monster and more, uh, like Annie. She's a gigantic aspiring actress named Eva who would rather belt out show tunes than do the things lab-created monsters are supposed to do. But there's a lot more in store for this crazy quilt group of misfits as they uncover an evil plot that threatens the world of Malaria--unless they can use all their ingenuity to save the day.

Acting

Blessed with a superior vocal cast, Igor works in large part due to appealing characterizations. John Cusack brings fun and recognizable human frustration to the title role, while his sidekicks are hilarious, including Steve Buscemi's nifty vocal calisthenics as the cynical rabbit, and Sean Hayes as the sweet but dumb Brain, relegated to life in a jar mislabeled "Brian," the butt of a few too many jokes. The mad scientists are played to the hilt by a couple of perfectly cast English vets: John Cleese as Dr. Glickenstein and especially silly work from Eddie Izzard as Dr. Schadenfreude. Christian Slater is along for the ride as the latter's own Igor, while SNL vet Molly Shannon seems to be having a great time bringing the Broadway-bound Eva to life, perfectly awful as she sings ditties like "Tomorrow" while dwarfing everyone else with her plus PLUS-sized frame. Listen also for former late night talk show rivals Jay Leno and Arsenio Hall in bit roles.

Direction

Relative newcomer Tony Leondis has directed with an eye toward over-the-top humor and atmospheric surroundings, making this animation entry always a pleasure to watch. He brings Chris McKenna's smart, sassy script to life in ways that won't just appeal to kids, but also their parents, who may even find themselves laughing out loud a couple of times. In fact much of the dialogue is so referenced with pop culture tidbits that a lot of it will probably sail right over the young tykes heads. McKenna, who cut his teeth as writer and producer of the sophisticated FOX series American Dad, brings the wit with Igor. Even though iconic animation wizards like Tim Burton and Pixar (with Monsters, Inc.) have been down this road before, Igor feels fresh and original and that's certainly no easy task.

Bottom Line

Hollywood.com rated this film 3 stars.