Review Date: March 7th, 2008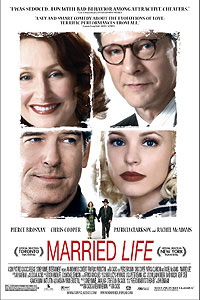 Stuck somewhere between a dark comedy and a thriller, director Ira Sachs' Married Life doesn't really work as either, leaving its strong cast adrift.

Story

Over lunch one day in 1949, middle-aged businessman Harry Allen (Chris Cooper) tells his best friend, Rich (Pierce Brosnan), that he's planning on leaving his longtime wife, Pat (Patricia Clarkson). A romantic at heart, Harry thinks practical Pat doesn't love him the right way--unlike his new girlfriend, gentle young war widow Kay (Rachel McAdams), who dotes on Harry and makes him feel special. But Harry can't stand the thought of hurting Pat, so he's stuck in between the two women--until he comes up with the idea of poisoning Pat. He's convinced that a quiet, easy death will be the best way to spare her any pain. But while he makes his plans, ladies' man Rich is busy flirting with Kay, and Pat has her own secrets to hide. Ultimately, all four are destined to realize that marriage is much more than meets the eye.

Acting

Cooper, Brosnan, Clarkson, and McAdams are no strangers to multilayered stories about complex relationships (really, does Clarkson do anything else?), and they do their best with Married Life, but the movie's uncertain tone leaves them a bit adrift. Should they play up the darkly comic aspects with knowing performances or focus on the nuances of romance and conflict? Stuck somewhere in the middle, they're left playing types more than anything else, and it's hard to be convinced that they're as passionate about each other as they claim to be. That said, it's nice to see Cooper playing a role (slightly) on the lighter side for once, and Clarkson has moments of luminosity as Pat, her warmth and earthy sparkle making you wonder what on earth Harry is thinking. By contrast, McAdams' Kay seems cool and remote. But it's hard to blame her when the movie doesn't really know where it's going.

Direction

Ira Sachs--best known for his 2005 Sundance jury prize winner Forty Shades of Blue--seems a bit confused about where to go in this movie based on John Bingham's novel Five Roundabouts to Heaven. There's a stylized archness to the film that suggests undercurrents of comedy, but the characters' complicated relationships are far from funny, and there's nothing inherently amusing about Harry's plan to murder his wife out of misguided compassion. On the flipside, that part of the story doesn't carry enough weight to make the movie really suspenseful or thrilling, and the romance angle, while heartfelt, lacks a certain conviction. It's hard not to root for a movie trying as hard as this one is to be different and fresh, but when it comes down to it, the central concepts--that marriage is hard, and you never really know another person--are neither, and the film falls flat.

Bottom Line

Hollywood.com rated this film 2 stars.