Review Date: May 14th, 2009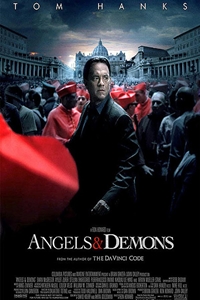 WHAT IT'S ABOUT?

After Robert Langdon cracked the Church's most controversial code in the last film, what could possibly make the Vatican come begging for his services again? Using Dan Brown's lesser-known bestseller Angels & Demons as the basis, director Ron Howard and star Tom Hanks return with this crackerjack story revolving around the reemergence of the Illuminati, an ancient, secret and wickedly powerful brotherhood. Determined to make the Church pay for its sins against science, they've planted a deadly ticking time bomb somewhere in the heart of the Vatican – just as a new Pope is set to be elected. Langdon joins up with beautiful Italian scientist Vittoria Vetra in a race against time through crypts, catacombs, cathedrals and hidden vaults as they follow the "Path of Illumination" to save Catholicism's venerable headquarters from certain destruction.

WHO'S IN IT?

With a thankfully restrained hairstyle, Hanks returns as celebrated Harvard symbologist Robert Langdon. He might as well have worn running shoes, because the action is ramped up to the max in Angels & Demons, turning this colorful drama into something that could have been called The Pope Ultimatum. It's THAT intense. This is Hanks' most vivid turn as an action star, and he delivers, proving movies don't get much more exciting than this. As his pretty cohort Vetra, Ayelet Zurer is every bit his equal, a much more effective female lead than the miscast Audrey Tautou was in the critically reviled 2006 blockbuster Da Vinci Code. Ewan McGregor offers a complex turn as the Camerlengo, the Pope's number two and acting head of the Vatican during this period, while Stellan Skarsgard brings authority to his role as head of the Swiss Guard. And veteran Armin Mueller-Stahl is simply terrific as a wise and dignified Cardinal at the center of the papal conflict.

WHAT'S GOOD?

If the slow-moving and overlong Da Vinci Code was more cerebral and Hitchcockian in tone, Angels & Demons is just the opposite: an exhilarating, heart-stopping thriller that doesn't let up for a minute. Howard's entire production is a first-rate example of Hollywood craftsmanship, delivering a summertime diversion that cooks on all burners. The backdrop of the mysteries and machinations behind the fiercely-guarded veil of the Catholic Church adds a layer of intrigue to the proceedings, keeping us hooked throughout with cool twists and turns.

WHAT'S BAD?

Brown's novel is basically pulp fiction, filled with expository dialogue which has been transferred in a clunky fashion to David Koepp and Akiva Goldsman's otherwise tight screenplay. Hanks and Zurer come close to Hardy Boys-style delivery as they attempt to awkwardly lay out "clues" and mounds of technical mumbo-jumbo in a believable fashion – not an easy task for the best of actors. You'll also have to suspend belief as the story is largely implausible. But hey, this is a summer movie – the cinematic equivalent of a good beach read – and the filmmakers know exactly how to play it.

FAVORITE SCENE:

A sequence where one of the hostages is being burned at the stake in a cathedral will keep you on edge as director Howard's experience with setting movie fires (Backdraft, anyone?) really comes in handy. The big denouement is one for the ages as well, but we won't reveal anything more about it except to say that a helicopter is involved.

NETFLIX OR MULTIPLEX?

The "cardinal" rule with blockbuster mysteries like this is to see it in a theater before someone tells you how it ends.

Hollywood.com rated this film 3 1/2 stars.