Review Date: November 7th, 2008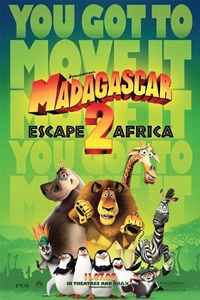 As a roaringly funny trip, the Madagascar gang turns the laugh meter way up this time. It's great to have them back.

Story

After a brief flashback prologue where we see how the young lion Alex (Ben Stiller) is separated from his father Zuba (Bernie Mac), inadvertently ending up in the Big Apple, the story returns to present day as our favorite New York zoo denizens prepare to take off from Madagascar in a crudely constructed airplane, piloted by the penguins and propelled by slingshot. Unfortunately for Alex, lovelorn giraffe Melman (David Schwimmer), fast talking zebra Marty (Chris Rock) and svelte hippo Gloria (Jada Pinkett-Smith), instead of landing in NYC, the aircraft sputters and crash lands right in the middle of Africa, where they run into a world of exotic creatures. This also includes Alex's long lost dad and mom. Happy reunion? Not quite. Zuba's nemesis Mukunga (Alec Baldwin) insists they follow lion pride lore, which means Alex must go through a rite of passage -- one he is sure to fail if Mukunga has his way. Meanwhile, Marty tries to integrate into a pack of zebras; Gloria gets hooked up with a soulful hippo (will.i.am); and Melman is up to his neck looking for love. Oh, and they also all have to save the Kenya preserve from a life-threatening water shortage. No biggie!

Acting

Madagascar: Escape 2 Africa's witty and hip dialogue provides rich voice over opportunities for a talented crew of actors. Stiller continues to be a riot as the showbiz loving, Zooperstar Alex, especially in his attempts to earn the pride's respect. Chris Rock earns his stripes, as he tries to hang with a large group of look-a-like, sound-a-like zebras. Schwimmer is winning and hysterical as Melman, now considered a witchdoctor by his fellow giraffe-ians, while Pinkett-Smith continues to shine as hippo Gloria, looking for a little action. Among the new voices, rapper will.i.am as Moto Moto, the last of the red-hot hippos, will have you wanting More More, while Alec Baldwin gets to play the heavy with Lion King style. The late Bernie Mac, playing it relatively straight as Alex's father proves (as he does in his other new release this week, Soul Men), shows us just how much his unique brand of humor will be sorely missed. Stealing the show, however, and getting king-sized laughs in an expanded role is Sacha Baron Cohen back as King Julien, the hard-partying head of the lemurs.

Direction

With a vast improvement in Madagascar's state-of-the-art computer graphic work, directors Eric Darnell and Tom McGrath take this sequel several notches up in terms of technical savvy, including the exciting opening sequence as well as the plane crash. But they really score with the script, with new co-writer Etan Cohen adding some crisp comedy. What was mostly just a serviceable script the first time around has gotten a lot more sophisticated and clever, a development parents being dragged by their kids will be keenly grateful for. This is the rare animated sequel that actually has a reason for existence other than minting money. It has more heart, drama and laughs than the original Madagascar, which, despite its flaws, still made half a billion dollars worldwide. Madagascar: Escape 2 Africa should make even more as it proves to be one of the year's most entertaining comedy delights.

Bottom Line

Hollywood.com rated this film 3 1/2 stars.