Review Date: January 26th, 2007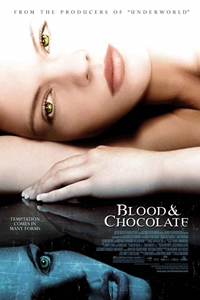 Blood and Chocolate is a romance with some bite when forbidden love comes between a young girl and her pack of werewolf friends.

Story

Vivian (Agnes Bruckner) works at a chocolate shop, but she also has a craving for something else. She's part of a pack of werewolves living in Bucharest who gather once a month when the moon is full to chase a human and tear him to shreds after they all transform into wolves. The human who makes it to the river at the edge of the woods will be spared, but so far, no one has ever made it. All Vivian really enjoys is the running part. In fact, she'd like to separate herself completely from the wolf shapeshifters, or loup garoux but instead is relegated to becoming the next new bride of their leader Gabriel (Olivier Martinez). Things are about to change, however. While lounging around in an old abandoned church, she meets Aiden (Hugh Dancy), a talented graphic artist and researcher obsessed with her kind. She tries to avoid him, he tries to forget her, but their paths inevitably cross too many times to ignore. He finds her at the chocolate shop, and they end up having a secret romance. And when Aiden becomes the next contestant in the werewolf run, Vivian is helpless to stop it.

Acting

It's hard not to like Martinez. It may seem like the role of a werewolf tribe leader is a bit beneath him after Unfaithful and Before Night Falls, but he is deliciously commanding and powerfully wolf-like in his role. He saunters and moves like a wolf through the film, showing that perhaps the Wolf Camp that the actors went through before the shooting of the film actually had some major impact on him (they also worked with real wolves on the set, which added to the realism). Bruckner (Blue Car) does the strong female hero well but something about her performance seems lackluster. She's only vibrant and interesting to watch in her scenes opposite Dancy. Dancy (Ella Enchanted), on the other hand, is superb and a good comic relief. German actress Katja Riemann as Vivian's sad and aging aunt is stellar in her performance as an ex-lover of Gabriel cast aside, while Bryan Dick (Bleak House) as Rafe is particularly evil and comes across as Harry Potter's blond nemesis Draco Malfoy, only deadlier.

Direction

What a fine accomplishment for German director Katja von Garnier. She has delved into the traditionally all-male world of directing a genre monster movie and turned it into a Romeo & Juliet with style. There's a distinct lack of gore, and the violence isn't overbearing, while the astounding art direction and overall moodiness of the movie is only heightened by filming on location in Romania, a perfect backdrop for the heavy gray feeling of Blood and Chocolate. Even when the couple in love is happy, there's a brooding nature that permeates the streets, even in daylight. Most amazing is the graceful and poetic transformation of the humans into their alter wolf egos. They run into a frenzied pitch and then leap into the air and become real wolves, rather than the usual cheesy werewolves accentuated by special effects. It's quite breathtaking.

Bottom Line

Hollywood.com rated this film 3 stars.