Review Date: August 18th, 2006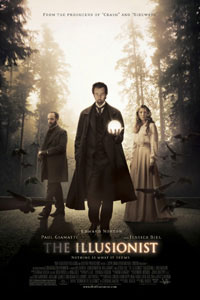 Elusive and stunningly rich, The Illusionist—with its big-budget look and indie sensibilities—is a haunting romance wrapped in an enigma.

Story

The Illusionist is also a bit sluggish, sort of like a complicated magic trick building to its climatic conclusion. It starts at the turn of the century, when mysterious stage magician Eisenheim (Edward Norton) arrives in Vienna and begins performing his astounding illusions. He arouses not only the curiosity of the people, who believe he has otherworldly powers, but of the ruthless Crown Prince Leopold (Rufus Sewell), an unsavory fellow who'd like to prove the man a fraud, especially after he witnesses a budding attraction between his beautiful fiancé, Sophie von Teschen (Jessica Biel), and the magician. What Leopold doesn't know is that Eisenheim and Sophie were once childhood sweethearts—and now that they've reunited, a dormant and forbidden love affair has been rekindled. Now it's up to Vienna's shrewd Chief Inspector Uhl (Paul Giamatti) to uncover the truth, charged by Leopold to intensify his efforts to expose Eisenheim. With Uhl doggedly pursuing the man behind the magician, Eisenheim prepares to execute his greatest illusion yet.

Acting

The stars of The Illusionist all shine. Yes, even Ms. Biel, who may not be of the same caliber as her cast mates but certainly doesn't embarrass herself either as the aristocratic Sophie with a feisty spirit. Norton, who has always prided himself on choosing his projects wisely, is sad and wonderful as The Illusionist's regal and masterful purveyor of chimera. Oscar could come calling. Gold might also be in Giamatti's horizon, who seems unable to turn in a sour performance in whatever he does (even if its swimming with water nymphs). As the steadfast policeman Uhl, Giamatti takes the brilliantly juicy part and runs with it. He really comes alive when trying to figure out Eisenheim's trickery but is continually baffled by it at the same time. Sewell (The Legend of Zorro) plays the bad guy once again. Guess he doesn't really care to try something new so long as he gets the job done.

Direction

The reason The Illusionist feels like an independent film, despite its opulent art direction and period costumes, is because writer/director Neil Burger is a newbie. And it's obvious the story is something close to his heart. Taken from a short story called "Eisenheim The Illusionist," Burger has cleverly interwoven an intimate murder mystery with a grand and romantic saga of two lovers, torn apart by class struggles, all within the frame work of magic. It's a brilliant first effort. Burger's inexperience does show up at times, especially in how the film plods a bit in the beginning, but once it gets going, you're hooked. It's also interesting to note there are TWO 19th century period movies about magicians coming out in the same year. Christopher Nolan's The Prestige, with Hugh Jackman and Christian Bale as rival magicians, is due out in October. Magicians and their tricks can certainly be cinema worthy, it's just funny to see how those Hollywood execs all think alike: "Hey, did you hear about that new guy doing a movie about a turn of the century illusionist or whatever? Let's do one, too!" "OK, and let's release it two months after the first one!" "OK!" Oy.

Bottom Line

Hollywood.com rated this film 3 stars.