Review Date: April 21st, 2006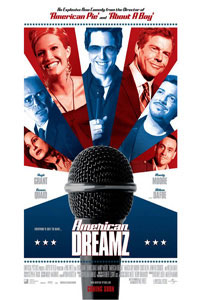 Look! They're making fun of the president and America's obsession with reality TV--what an ingenious concept! OK, so American Dreamz tries a little too hard to be satirically witty and bitingly political. But, darn it, it still makes you laugh in spite of yourself.

Story

The majority of the action revolves around the fictional TV show, American Dreamz (the "Z" on the end is particularly clever), an American Idol-esque send up, which includes acerbic host/judge Martin Tweed (Hugh Grant). Always on the lookout for the next over-exploited star, his latest crop of hopefuls seem primed and ready. They include Sally (Mandy Moore), a conniving steel magnolia and Omer (Sam Golzari), a bumbling, show tune singing, would-be terrorist awaiting activation in So. Cal. And when both Sally and Omer make it to the final round of Dreamz, they get an extra surprise. The President of United States (Dennis Quaid)--a big fan of the show but kind of clueless on anything else happening in the world--is a guest judge alongside Tweed. The stage is set for a show the nation will never forget.

Acting

So, Hugh, thought you were giving up acting, mate? Well, it's a good thing Grant got bored with being out of the limelight because without him, Dreamz wouldn't be nearly as entertaining. His sardonic take on the Simon Cowell-like character is inspired hilarity, from the self-aggrandizing (Tweed's tag line is "Boo!") to the self-loathing (banging his head against the wall and pleading for it all to be over). Quaid, on the other hand, has the tough job of mocking our current president without seeming like he is. Although he tends to play him like a small child discovering the world, Quaid ends up giving the character some dignity towards the end. Willem Dafoe also takes a major departure by playing the Cheney-esque Chief of Staff, complete with balding, gray hair and glasses. As does Moore, distorting her America's sweetheart persona with steely and highly ambitious resolve. But the real find is Golzari as the befuddled wannabe terrorist, finding out he CAN fulfill his American dream. Classic ironic twist, eh?

Direction

Writer/director Paul Weitz--who, with his brother Chris, is responsible for such delightful comedies as In Good Company and About a Boy--goes solo on American Dreamz. He pretty much accomplishes what he sets out to, succinctly lampooning some of America's best loved pastimes and showing, to great effect, how that inane pop culture fits into the global political scheme. Still, something is missing in Dreamz. We are used to the Weitz brother's comedies being filled with heart. In About a Boy, you really don't want to like Grant's narcissistic loafer, but you do. Same goes for Topher Grace's character in Good Company. But in Dreamz, there really isn't a human connection, save for Omer, whose innocence is the film's only heartening quality. Dreamz is definitely a more bitter Weitz, who seems to be fed up with what this country thinks is true entertainment. You can't blame him, but you can fault his film for having too much cynicism--and not enough compassion.

Bottom Line

Hollywood.com rated this film 2 1/2 stars.