Review Date: February 18th, 2006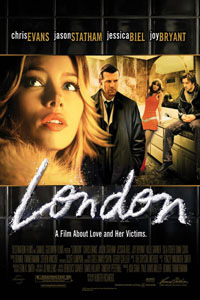 A seedy tale about cocaine and sex, London is style over substance.

Story

Jessica Biel plays London, a beautiful Manhattanite moving to Los Angeles. We don't know much about her, other than that her ex-boyfriend, the self-loathing Syd, (Chris Evans, Biel's real-life boyfriend), is really hung up on London. Syd meets a cocaine dealer, Bateman (Jason Statham), for a score and invites him along to crash London's going-away party. Syd and Bateman hole up snorting cocaine in an upstairs bathroom all night. Syd's self-appointed goal is to confront London one final time, though he's uninvited and zonked on drugs.

Acting

London is officially Biel's movie, though she is absent from the lengthy, pivotal cocaine scenes. Her presence is mostly symbolic, that of the love object who's driving Evans crazy. Biel is a charismatic onscreen sparkler who has strong convictions, even if they're a little unclear. And, for your information, that's not Jessica Biel's naked body--it's a double. Evans, best known as the Fantastic Four's Human Torch, plays against type in London as a lost, drug-abusing, bearded 21-year-old man/boy. The actor has many pages of dialogue and uses them to show his brooding, bad-boy acting, a surprising departure from the limited fluff he's been offered of late. Statham nearly steals the show as the mild-mannered, quiet coke dealer. He remains a mystery, brewing with sub-surface intensity. Get Rich or Die Tryin's Joy Bryant is given the ugly treatment with bad hair and make-up. As a onetime model with few acting credits, Bryant shows natural ability. Comic Dane Cook pops up as a party guest charming the presumably single London.

Direction

First-time director Hunter Richards is actually more of a writer, but inveterate casting director (and London producer) Bonnie Timmerman encouraged Richards to direct the indie film. Half of it takes place in a bathroom, á la Saw but with cocaine instead of weapons, and Richards lapses occasionally into melodrama or relies on gimmicky title-card shots. Overall, some might condemn London as a matter of taste for its nihilistic griminess. But there is an awful lot to like about the film, especially its use of house music, provided by DJ's extraordinaire Crystal Method. The up-close examination of its scoundrel characters is real as a fast paced hybrid of Spun and Igby Goes Down. London should be good for a late Friday or Saturday night date, finding a niche DVD audience among older teens and young adults.

Bottom Line

Hollywood.com rated this film 2.5 stars.