Review Date: August 13th, 2007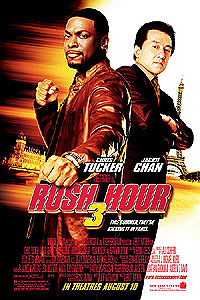 The worst threequel of the summer is (thankfully) its last. Rush Hour 3 is now minus its "rush," and main players Chris Tucker, Jackie Chan and Brett Ratner generate more lethargy than laughs.

Story

Six years have passed since Rush Hour 2, but the song remains the same. And in case audiences have forgotten, LAPD Detective Carter (Chris Tucker) is quick to remind us, in the opening scene, of the relationship at the story's core: Inspector Lee (Jackie Chan) is perpetually slightly miffed at Carter, and their language/cultural barriers don't help. Almost immediately, the two are reunited as crime-fighting partners following an assassination attempt on Chinese Ambassador Han (Tzi Ma) by a member of the Triad gang. The Triad sniper naturally turns out to be Lee's long-lost orphanage "brother," Kenji (Hiroyuki Sanada), which renders Lee unable to pull the trigger when they come face to face. So Lee and Carter are forced to travel to Paris, where they hope to find Kenji and the rumored Triad leader Shy Shen. Along the way, they stumble upon an equal amount of clues and trouble, both of which culminate when they meet a drop-dead-gorgeous performer named Genevieve (Noemie Lenoir). She proves an integral piece to the puzzle, literally revealing secrets with each layer of her wardrobe, but it'll take a trip to the top of the Eiffel Tower before Lee and Carter can solve the crime.

Acting

Chris Tucker is in the wrong movie this weekend—he, and not Cuba Gooding Jr., should be playing the role vacated by Eddie Murphy in Daddy Day Camp. The once raunchy, indefatigable comic plays Carter so PG and unenthusiastically that his target audience would seem to be children. In fact, he relies so heavily on pratfalls in Rush Hour 3 that if the Home Alone franchise is ever resurrected—and we know he'd love another franchise—sign him up to play one of the bad guys. There are a few instances in which Tucker puts his motormouth to good use and evokes his former self, but the lasting impression is of him playing his unfunny lines safe where he used to swing for the fences. Chan remains a stuntman first, actor second, and the so-wrong-it's-comical American accent that is his shtick has suddenly become, ironically, over-acted. His stunt work and action sequences are now a necessary respite from the Carter-Lee banter, as opposed to once being vice versa. The backseat supporting performances range from the incredibly hot (French actress/model Lenoir) to the incredibly odd: Legendary director Roman Polanski, who will go unrecognized by those clamoring to see RH3, pops up as an obnoxious French policeman. Sure enough, it is the movie's best performance.

Direction

Rush Hour 3 plays like a "This franchise is done" manifesto, and yet good box office could still spawn a fourth. Whether the series mercilessly limps on or dies here, in its sleep, this much is clear: Director Brett Ratner, he of inexplicable household-name status, has squeezed all the mileage and (seemingly) dollars he can out of the stale buddy-cop sub-genre, and after what could arguably be considered the seventh Lethal Weapon, it is time to move on. Forgetting screenwriter Jeff Nathanson's (Rush Hour 2, Catch Me If You Can) highly unimaginative, by-the-book script—which is once again nothing more than a carousel of clichés—it's Ratner who dulls it down the most. His generic, if not lazy, direction plagues the movie and comes across as Michael Bay lite. Gone completely is Ratner's ability to fuse the action with the comedy for a somewhat enjoyably swift pace; thus gone as well, for the most part, is the entertainment. And the climactic Eiffel Tower conclusion, aside from probably bordering on blasphemous to Parisians, looks like shoddy CGI. It's dizzying—and not in the good way.

Bottom Line

Hollywood.com rated this film 1 1/2 stars.