Review Date: November 17th, 2006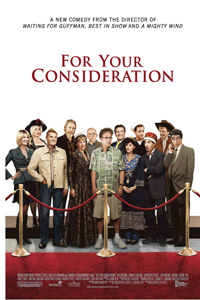 For Your Consideration takes aim at the entertainment industry's illustrious awards season with a more poignant and subtle point of view than what director Christopher Guest and his improvisational entourage have served up in their past efforts.

Story

Consideration follows the making of a small independent film, Home for Purim, the debut feature from director Jay Berman (Guest) about a Jewish family's turbulent reunion, set in the 1940s. When Internet-generated rumors begin circulating that three of the film's stars--faded luminary Marilyn Hack (Catherine O'Hara), journeyman actor and former hot dog pitchman Victor Allan Miller (Harry Shearer), and ingénue Callie Webb (Parker Posey)--may be considered for golden statuettes, award fever infects the entire production. Unit publicist Corey Taft (John Michael Higgins), talent agent Morley Orfkin (Eugene Levy), and producer Whitney Taylor Brown (Jennifer Coolidge) are all primed to milk this thing for as long as they can. Even Hollywood Now TV anchors Chuck Porter (Fred Willard) and Cindy Martin (Jane Lynch) pick up the buzz. As the hopeful Purim team careens toward the end of production and the upcoming award season, tenuous relationships and brittle dreams play out in unexpected ways.

Acting

The gang from Waiting for Guffman, Best in Show and A Mighty Wind are all back and raring to go. Each actor once again comes up with their own unique character quirks and personalities--some, of course, more outrageous than others. Stand-outs in that department include Higgins as the uptight, militaristic publicist Corey; Willard as the bombastic TV host with a "faux" Mohawk, with the plastic Lynch, smiling sweetly--and completely insincerely—by his side; and Coolidge as yet another dumb, hat-wearing, push-up bra-strapping blonde who delivers some of the funnier lines in the movie. But the real surprise is O'Hara as Marilyn, the veteran actress who has all but given up on the dream of making it big—until she gets caught up in all the excitement and starts to believe again. It's actually more than a little heartbreaking to watch, as O'Hara provides an emotional core amidst the sea of cut-ups.

Direction

For Your Consideration might be director/writer Guest's most introspective production to date. Done more as a straightforward film than a mockumentary this time, Guest and co-writer Eugene Levy obviously felt it was time to make fun of the one thing they know a whole lot about. No dog shows, small-town community theater or folk singing in this one. Yet, in turning their satirical eye on themselves, Guest, Levy and the whole improvisational cast have created something that may hit a little too close to home, and in doing so, loses some of that hysterical exaggeration we've come to expect from their movies. Don't get me wrong, its still hilarious much of the time, but it's not quite as laugh-out-loud funny as say watching a panicked woman desperately trying to find her dog's favorite toy or an upbeat folk singer talk about her past as a porn star. While its subtle approach may disappoint some fans, For Your Consideration is still a worthy—and somewhat refreshing—change of pace for the Guest crew.

Bottom Line

Hollywood.com rated this film 3 stars.