Review Date: December 17th, 1999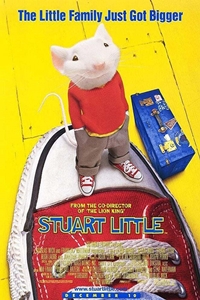 The 1999 holiday season has seen its share of movies adapted from beloved books. Whether it's "Angela's Ashes" or "Snow Falling on Cedars," "Bicentennial Man" or "The Talented Mr. Ripley," the multiplex marquees read like a bizarroland best-seller list.

Nearly all these films, however, are aimed at adults. Sure, the kids had "Pokemon" and "Toy Story 2," but there are only so many times one can see those animated films.

Parents can rest easy, though, because a mouse has come to the rescue. I'm not talking about Mr. Jingles from "The Green Mile", either, but rather E.B. White's delightful creation, "Stuart Little."

While purists may be upset with the liberties taken by screenwriters Gregory J. Brooker and a pre-"Sixth Sense" M. Night Shyamalan and helmer Rob Minkoff (who co-directed the Disney animated classic "The Lion King") who seems more comfortable with the four-legged creatures rather than the adults, "Stuart Little" does possess certain charms. The kids at the screening I attended really got into the film's story, cheering for the heroic little mouse through all his adventures.

While in White's classic tale, Mrs. Little mysteriously gives birth to a mouse, in this version, the Littles of Fifth Avenue (the underused Hugh Laurie and Geena Davis) plan to adopt a little brother for their precocious son George (Jonathan Lipnicki). This allows the always delightful Julia Sweeney to play a ditsy official at an orphanage and sets up Stuart (voiced by Michael J. Fox and beautifully realized digitally by Oscar-winning special-effects technician John Dykstra and his crew) as the perennial outsider.

The thin plot revolves around the mouse's attempts to fit in among the world of the humans. George at first rejects him, while the extended Little family (veterans like Estelle Getty, Jeffrey Jones and Allyce Beasley) attempt to welcome him. Meanwhile, the family cat Snowbell (voiced with dry wit by Nathan Lane) sets in motion the main plot; he conspires with the local alley cat (a humorous Chazz Palmintieri) to rub out Stuart.

Minkoff keeps things moving at a brisk pace, and he certainly knows how to integrate the live-action sequences with the digitally animated ones. There are several exciting set pieces that the kids enjoyed, ranging from a toy boat race in Central Park to Stuart being pursued by several cats. The latter sequence is a little intense, making it unwise to bring very small children to see the film. During this particular chase, several parents had to remove crying children from the theater. Parents, though, can appreciate some of the sophisticated humor (mostly provided by Lane and his wry line readings) that recalls that of the more successful Disney films.

Next to Stuart, whose facial expressions and ease of movement must rank as a triumph of special-effects magic, however, the actors come across as slightly stiff. Still, the genial approach to the material and the warm message it imparts about spirit and courage and what it takes to be a family, however sentimental, is a welcome one, especially during the holiday season.

* MPAA rating: PG, for brief language.

"Stuart Little"

Michael J. Fox: Voice of Stuart Little

Geena Davis: Mrs. Little

Hugh Laurie: Mr. Little

Jonathan Lipnicki: George Little

Julia Sweeney: Mrs. Keeper

A Columbia Pictures presentation. Director Rob Minkoff. Screenplay M. Night Shyamalan and Gregory J. Brooker. Book E.B. White. Producer Douglas Wick. Director of photography Guillermo Navarro. Editor Tom Finan. Music Alan Silvestri. Production designer Bill Brzeski. Costume designer Joseph Porro. Art director Philip Toolin. Set decorator Clay A. Griffith. Running time: 1 hour, 32 minutes.