Review Date: May 12th, 2006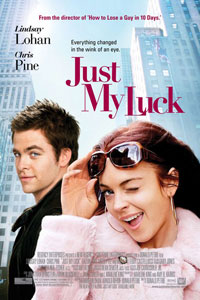 Just look at little Lindsay Lohan, all grows up, doing romantic comedy like a big girl. It's just a shame Just My Luck is just too inane for words.

Story

There's nothing wrong with a little good luck. But in the case of Ashley (Lohan)--a young professional just out of college with a nice job at a PR company, a huge cushy Manhattan apartment, loads of fab clothes, hot guys asking her out, the envy of her best friends (Samaire Armstrong, Bree Turner)--luck isn't the word for it. She can do no wrong. All that changes, however, when at a costume ball, a masked Ashley kisses a mystery man, Jake (Chris Pine), who also happens to be one of the most misfortunate guys on the planet, and somehow they swap their luck. Suddenly, her charmed life turns into a living hell, while his gets a LOT better. Ashley is now desperate to find the guy, kiss him again, get her life back and, you know, fall in love with him and junk. Good luck with that.

Acting

You can't help the girl for trying to branch out a little. Just My Luck is the appealing Lohan's first attempt at mature comedy, and she's pretty good at the physical stuff--getting electrocuted, falling into mud, dealing with a wayward washing machine. But maybe Lohan is just a little too young to be playing corporate dress up just yet. I mean, a yuppie career girl just out of college? The 20 year-old actress isn't even the age range yet. As her friends, Turner (Bring It On Again) and Armstrong (HBO's Entourage) are cutesy and supportive, while Pine (The Princess Diaries 2) is adequate as the milque-toasty love interest. It's too bad they didn't give character actress Missi Pyle (Charlie and the Chocolate Factory), as Ashley's snarky boss, more to work with. She's an untapped comic talent.

Direction

Just My Luck certainly shows a more mature Lindsay, but it still doesn't steer too far away from her core teen audience. Director Donald Petrie, who has a spotty history helming comedies (Good: Miss Congeniality); Bad: Welcome to Mooseport), shines the spotlight on his young starlet, turning her into every teenage girl's fantasy. He shows what life would be like, living it young and large in the Big Apple. And then he turns into a Lucille Ball, with one mishap after another. What he forgot about, however, is making a cohesive film for the rest of us, one that doesn't lapse into the completely ridiculous. If they think just sticking Lindsay Lohan in a movie, have her fall all over the place and win the heart of a cute guy, is a way to get everyone to clap their hands in joy and shell out their money to see it again and again, then they are going to be way out of luck on this one.

Bottom Line

Hollywood.com rated this film 1 1/2 stars.