Review Date: July 7th, 2006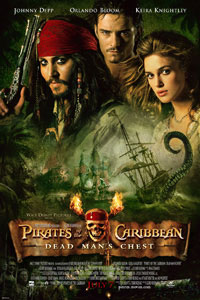 Captain Jack is back and in rare form in this swashbuckling, booty-licious Pirates sequel which more than equals its predecessor.

Story

Pirates of the Caribbean: Dead Man's Chest does the right thing as a sequel: It maintains the same carefree spirit of the original and creates an even more fitting story to the whole Pirates lore. After narrowly escaping the gallows--with the help of his friends Will Turner (Orlando Bloom) and Elizabeth Swann (Keira Knightley)--and reclaiming his cursed Black Pearl, it still seems Captain Jack Sparrow (Johnny Depp) has a few more fish to fry. More specifically the barnacle-encrusted undead onboard the ghostly Flying Dutchman, lead by Mr. Octopus Face himself, Davy Jones (Bill Nighy). Jack apparently owes a blood debt to the inky captain and if he can't find a way out of it--namely locating the secret contents of Jones' famed locker--Sparrow will be doomed to eternal damnation and servitude in the afterlife [insert Jack Sparrow's face of disgust here]. Making matters worse, Sparrow's problems manage to interfere with the wedding plans of Will and Elizabeth, who are forced to join Jack on yet another one of his misadventures.

Acting

Depp's Oscar-nominated performance as Captain Jack is still a marvel in slovenly pirate behavior, with his slurred speech, swaying swagger and slack, waving arms. But whether channeling famed Rolling Stones' guitarist Keith Richards or not, it's the duality of the character that continues to intrigue us. He is a lusty, fearless man with a deeply defiant and somewhat sneaky streak but whose delicate features, long, dreadlocked hair, kohl-rimmed eyes and almost girly mannerisms give him a subtly effeminate air that belies his macho antics. This time around, young Brits Knightley and Bloom have a little more to do, with Elizabeth's growing attraction to Jack and Will's reunion with his father, Bill "Bootstrap" Turner (Stellan Skarsgård), who's soul is stuck on the Flying Dutchman. And Nighy (Love Actually) once again makes his mark as an effective villain, infusing his rather quirky acting ticks--the laconic delivery, the laid-back attitude--which shines through all the special effects make-up. Let's just say, Nighy certainly rivals Depp in the arrogant rock star stance, even if he has tentacles for a face.

Direction

The other thing Dead Man's Chest does right is make things bigger and better. From a hair-raising sword fight on top of a spinning water wheel to the way Davy Jones and his crew look--all water logged and crustacean-like--the film's production value is simply amazing. Returning producer Jerry Bruckheimer and director Gore Verbinski make sure the action sequences, the sets, the costumes, the make-up and the special effects give the audience a familiarity to the original while also taking them on a whole new adventure. And if you are a fan of the Disney park attraction (the one at Disneyland, not Disney World), the elements that got missed in the first one--the creepy bayou, the beating heart in the treasure chest--are in this sequel. Dead Man's Chest does lag a bit from time to time, especially in heating up the Jack, Elizabeth and Will love triangle. But that's OK. We enjoy watching their banter, as much as we do the rest of it. And for those who'll want more adventure after the movie ends, Dead Man's Chest gives us a promise the third installment will be just as much pirate fun.

Bottom Line

Hollywood.com rated this film 3 1/2 stars.