Review Date: August 19th, 2005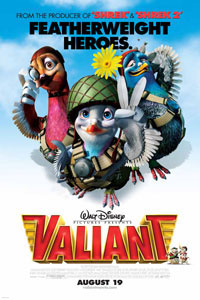 From the producer of Shrek and Shrek 2, Valiant definitely makes an effort. But Disney's attempt to go computer-animated without Pixar unfortunately backfires since it's evident just how pedestrian this latest offering is compared to its predecessors.

Story

Valiant follows a young carrier pigeon anxious to prove all of his naysayer friends and family wrong by making his way to the Royal Homing Pigeon Service (RHPS) in World War II London. And this is an animated feature. The young pigeon's name, of course, is Valiant (voiced by Ewan McGregor), an indulgent, thinly veiled metaphor that, clearly, the filmmakers assumed they could tautly wrap the obligatory thematic lesson around an all-encompassing character name. Valiant flies away from his mum, against her wishes, and sets off to fulfill his duty of serving crown and country during the war. On his way, he befriends a mess of a pigeon, Bugsy (voiced Ricky Gervais), who hasn't taken a birdbath in eons. When they reach the pigeon boot camp, as it were, they are greeted by the misfits with which they will hone their skills. But Valiant has a more (insert synonym for brave--that starts with a ''v'') conclusion in mind. In the end, Valiant earns his sky cred and then some, and he even gets the girl, er, bird for good measure.

Acting

Gervais is the standout in the all-British cast. The star of and genius behind BBC's The Office injects a certain energy that will be instantly palpable to the toddlers who watch. His trademark mania will also be recognizable to their parents who might be fans of the British show. The rest of the cast is a sort of who's-who of living British screen legends--aside from McGregor, who is more of a Hollywood star than a legend--but that fact will be lost on youngsters longing for the familiarity of Mike Myers, Cameron Diaz and Eddie Murphy. The Brits joining McGregor and Gervais in the voice-over studio include Tim Curry, Jim Broadbent, Hugh Laurie, John Cleese and John Hurt. They're all brilliant blokes here, but something fails to connect. But it isn't entirely their fault.

Direction

The fault lies within in the script. Shrek producer John Williams should have perhaps gotten a more experienced crew to back up Valiant. The writers, of which there are many, are all relative newcomers, as is director Gary Chapman. The story is sloppy, as though it was simply thrown together quickly for a late-summer release to yield a little extra dough for Disney. Valiant also lacks in both the sheer technological ingenuity and unbelievably quick wit of the green-ogre franchise--or any Pixar movie. There certainly are funny moments, but they are few and far between and the concept itself just doesn't leave much room for exploration. Disney had better pray for a miracle on this one, with a budget that vastly exceeds the bankability of Valiant's actors, and one that approaches that of the Shreks.

Bottom Line

Sure, Valiant has a few laughs and will undoubtedly benefit from being the only animated feature of the late-summer in which young CGI-junkies can indulge. But as a whole it lacks the outlandish foolery for the tots and the wry undertones for their caretakers.