Review Date: July 9th, 2004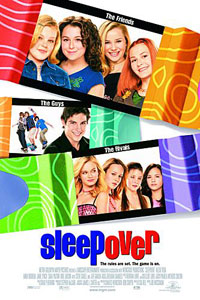 Neither a sleeper hit nor a sleep-inducing bore, Sleepover has enough sweet, girlish charm and spirited humor to compensate for the clichéd story, blaring pop music and mundane, perfunctory production values.

Story

A middle-school version of Mean Girls, and darn close to every other PG-rated girl-power movie you or your daughters are likely to see, this follows four brash eighth-graders as they have a sleepover to wear dress-up clothes, freeze their bras, fantasize about boys, dance madly and celebrate their graduation to high school. They see themselves as social outcasts but while one (Kallie Flynn Childress) is short and plump. the others could be cheerleaders at any real school--Spy Kids' Alexa Vega (who gives the party and is the film's star), Mika Boorem and Scout Taylor-Compton. (Does anybody still name their kid ''Jane'' these days?) But just when they're being good girls and staying home as mom (Best in Show's delightfully edgy Jane Lynch) has demanded, a snooty rival (the statuesque blonde Sara Paxton) and her coterie challenge them to a slightly risqué scavenger hunt. That involves getting into a bar and ordering Sex on the Beach cocktails, changing the display in an Old Navy window (one of many shameless plugs), and escaping from a dimwit security guard by driving a tiny lime-green electric car that is the ugliest movie vehicle ever. In a surprisingly erotic scene for a PG movie, Vega--wearing a tight red party dress with a plunging neckline that amply reveals why she's been having ''growing pains''--sneaks into a ''hot'' boy's bathroom to steal his boxers, watching from the shower as he removes them. Just in case you thought this all would lead to a teen reenactment of Psycho, Sleepover ends with the usual sentimental empowerment lessons learned and friendships sealed. And the chubby girl even finds a boyfriend who likes brownies more than carrots.

Acting

The film's three casting directors all worked overtime to find young actresses amazingly reminiscent of slightly older girl-role-model favorites. Vega conveys the same mixture of insecurity and self-confidence as Lindsay Lohan in Mean Girls, and even has the same expressions. With her moon-round face, long tangle of dark hair and glowing smile, she might also remind adults of a teen Bonnie Raitt. But she's maturing so fast, she already seems too old for this part physically and temperamentally. There are moments, in fact, when the actress acts dismissive of the story's clunky, derivative plot mechanics. Meanwhile, Boorem is warmly Kirsten Dunst-like, and Paxton such an amazing reincarnation of Reese Witherspoon that I'll look for her in a Legally Blonde sequel when she hits 18. This is all good, by the way - most everyone appears to relish her chance in the spotlight. But even better are the two offbeat comic actors who play Vega's parents--Lynch and the portly Jeff Garlin (of Curb Your Enthusiasm) as the clueless dad. The film reaches a moment of Freaky Friday hilarity with Vega discovers enthusiastic mom Lynch wiggling and writhing at a dance club. ''Yeah, older lady, shakin' her boo-tay,'' the deejay announces as Vega cringes. It's a great movie parent-child moment.

Direction

Director Joe Nussbaum got his start in Hollywood with the cult favorite short George Lucas in Love, and this marks his feature debut. He gets the train to the station in time, so to speak, but the pace is so chop-chop quick that a lot of promising comic and romantic scenes go underdeveloped amid the editing pace. And, unfortunately, Nussbaum kept in all the corny scenes involving an unfunny security guard (Steve Carell) who harasses the girls. There also are a lot of tiresome close-ups and two-shots - this could (and doubtlessly will) play on TV with little lost. So unlike the cast, the direction isn't pretty. But writer Elisa Bell, however, does embellish the formulaic plot with some unusual--sometimes even downright surreal--dialogue. I'm still trying to figure out, for instance, what Sam Huntington, as Vega's slightly older brother (a Giovanni Ribisi look-alike, by the way) means when he tells her, ''Go be a teenager. It ends too soon. And it gets replaced by ribbons and lampshades.'' Huh?

Bottom Line

The one 1980s pop song not played on the soundtrack--Cyndi Lauper's ''Girls Just Want to Have Fun''--is the one that best describes the film's playful spirit and youthful energy. Were only it more original, however, Sleepover wouldn't be so quickly forgettable when it's over.