Review Date: May 8th, 2006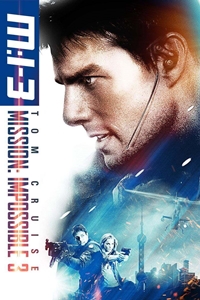 The third impossible mission is certainly more personal than the others, but truly the franchise serves only one purpose: To show Tom Cruise donning disguises, dangling precariously and blowing stuff up. In that regards, M:i III succeeds.

Story

Just when he thought he was out, they pull him back in. Recently retired, Agent Ethan Hunt (Cruise) now trains new IMF agents, while maintaining a fairly normal life with his adorable--and very young--fiancé Julia (Michelle Monaghan). She has no idea what he really does, or did, for a living but she's about to find out--the hard way. Ethan is called back to duty on a rescue mission when one of his trainees (Keri Russell) gets trapped in the field, forcing him to cross paths with a nasty arms dealer Owen Davian (Philip Seymour Hoffman). Things then turn personal when Davian swears vengeance against everything Ethan holds dear. So now, on top of everything else, Ethan--along with his crack team (Ving Rhames, Jonathan Rhys Meyers, Maggie Q)--has to go rogue to rescue his lady love. Geez, the guy just can't catch a break.

Acting

No matter how overexposed Cruise is these days, there really is no denying his onscreen charisma. He is perhaps one of the last true-blue movie screen idols. But it's also nice to see Cruise handle the emotional side of being a secret agent. He shows Ethan's internal strife in M:i III--the constant struggle of being damn good at his job and desperately wanting a normal, happy life, devoid of daredevil stunts, masks and guns. Hoffman, on the other hand--who usually plays weirdos and wimps--must have been tickled pink to get a chance to play this sort of villain. Although he is a tad more bark than bite in M:i III, he definitely gives great face. And he gets to beat the crap outta Tom Cruise. What could be more fun than that? The rest of the cast fills in nicely: M:I veteran Rhames, as Ethan's stalwart right-hand man; Billy Crudup and Laurence Fishburne as IMF's corporate honchos; and for a little comic relief, Shaun of the Dead's Simon Pegg as an IMF tech-head. He gets all the best lines.

Direction

J.J., baby, you are definitely on a roll. In his first attempt at feature film, director and co-writer J.J. Abrams, the same young buck who brought us TV's Alias and Lost, pretty much hits the nail on the head with his M:I vision. He's obviously had practice working within the whole spy milieu with Alias, so taking it big screen probably wasn't as difficult for him. Of course, M:i III isn't without faults. Abrams' intent is to bring a human quality to secret agent Ethan Hunt, but in doing so, the story lapses a bit into the over sentimental. Thankfully, there is plenty of action, which comes at us fast and furious--from the dark and jumbled, such as a helicopter chase through windmills, to the death-defying, such as freefalling from a skyscraper to land on another and slide down its glassy exterior, performed by the leading man. Personally, I think Cruise is just an adrenaline junkie, but hey, it makes for great cinema.

Bottom Line

Hollywood.com rated this film 3 stars.