Review Date: June 3rd, 2005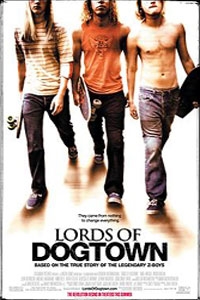 Dude, Lords of Dogtown is, like, totally bitchin' when the Z-Boys skateboard the concrete curves and create a whole new counterculture phenomenon. But the flick has a tough time trying to fill out the rest of its threadbare story.

Story

Dogtown centers on three teenagers in the 1970s--Jay Adams (Emile Hirsch), Stacy Peralta (John Robinson) and Tony Alva (Victor Rasuk)--who just want to ride. At first, it's waves. Living in ''Dogtown,'' a tough and gritty area in Venice, Calif., these guys do everything they can to get in with the Zephyr surfers, lead by the charismatic owner of the Zephyr surf shop, Skip Engblom (Heath Ledger). But the boys are soon transferring their aggressive wave-riding moves to the concrete, turning empty pools into arenas of wild, beautiful athleticism and revolutionizing a new style of skateboarding. Skip recognizes great money-making potential when he sees it, and takes these freestyle wizards on urethane wheels out on the road to show off their skills, dubbing them the Z-Boys. The skating world goes nuts. Conventional competitors don't know what to make of their ''extreme'' ways. Girls are wild for them. And promoters see dollar signs, wanting to grab a piece of the action. But what started out as fun way to blow off steam soon turns into big business. Can the friendship between this tightly knit trio survive inflating, out of control egos and fast-paced, famous lifestyles? Dude, that's a tough one to call.

Acting

What better way to make a movie about three hot California skateboarders then by casting three hot, young male leads to play them. As Tony Alva and Stacy Peralta--the two talented skateboarders on the opposite ends of the spectrum--newcomers Rasuk (Raising Victor Vargas) and Robinson (Elephant) aptly bring sincerity to their portrayals. As the fiery Alva, the wild-haired Rasuk is full of bravado, taking to the jet-setting life with ease and ultimately becoming the more well-known name. The soft-spoken Robinson plays the easy-going Peralta with quiet determination, proving he doesn't have to showboat in order to show how good he is. But it's the more seasoned Hirsch (The Girl Next Door), playing the gifted but ultimately screwed-up Jay Adams, who has the harder acting job. As the Z-Boy with probably the rawest talent, but nevertheless gives up his chance for fame, Hirsch handles Adams' conflicted emotions well. Ledger, too, does a nice job as Skip Engblom, the boys' ''mentor'' who introduces them to a whole new world, rides a great meal ticket for awhile--and then loses it all when the boys move on to bigger and better things. Sorry, Skip.

Direction

Coming off the heels of his award-winning 2001 documentary Dogtown and Z-Boys, writer Stacy Peralta decided he wasn't quite done telling his Z-Boy story, trying his hand at dramatizing the whole experience. This time around he elicits the help of director Catherine Hardwicke, whose disturbing indie Thirteen proved she can get underneath a teenager's skin. Smart move. Her documentary style of filmmaking, with that grainy, handheld feel, fits the Lords of Dogtown milieu perfectly. The camera chases after the boys as they skate, sneak onto private property to surf empty pools, and rock like rock stars. Peralta also calls upon his old buddies to help out, including the now world-renowned skating champion Tony Alva, who choreographs many of the stunts and apparently teaches the actors not only to skate but skate in true Z-Boy fashion. Maybe hardcore skateboarders will notice the errors but for a novice like me, it is a fun ride. The only real problem with Dogtown is Peralta's greenhorn attempts at fleshing out a drama. As a documentary, the Z-Boys experience is exhilarating as it follows these real-life mavericks' efforts to take skateboarding to a whole new extreme. But as a full-blown feature film, it's a little harder to perpetuate the momentum.

Bottom Line

Although thin on plot, Lords of Dogtown still might inspire you to grab your skateboard, drain your pool and rip it up. Or maybe not.