Review Date: August 6th, 2004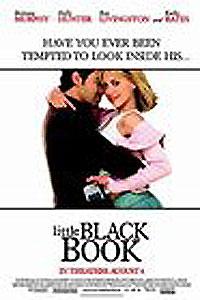 Little Black Book is an imaginative romantic comedy with a thoroughly modern storyline that challenges the genre's run-of-the-mill formula.

Story

Stacy (Brittany Murphy) is a greenhorn TV producer for the New Jersey-based syndicated talk show Kippie Kann Do. She is in a seemingly happy relationship with Derek (Ron Livingston) and doesn't seem to mind that her beau never discusses his ex-girlfriends or has never introduced her to his parents-until her co-worker Barb (Holly Hunter) plants the dirty little seed of distrust into her head. So when Derek leaves on a business trip to Detroit and accidentally leaves his Palm Pilot behind, Stacy's interest is piqued. ''Seconds before opening the metallic case, I envisioned all the evil flowing into the world: I was Pandora,'' our heroine quips. ''Then I got over it.'' Through her snooping, Stacy discovers that Derek is still in contact with many of his ex-girlfriends, and in the case of Joyce (Julianne Nicholson), seeing her on a regular basis. Using the show as a ruse, Stacy decides to interview Derek's exes, including Joyce, a successful chef, but the two become friends in the process. What's worst is someone on Kippie Kann Do decides to turn Stacy's mock interviews into an actual live show for sweeps. But what will Stacy do when confronted by Derek, Joyce and the rest about her lies? The most interesting twist of all, however, is how the conundrum is resolved-and who gets the man.

Acting

Murphy, who shot to stardom as the homely-turned-cute character Tai in the 1995 hit comedy Clueless, is one of those funny comedians you can't help but like on screen. While it was apparent from her performance as a disturbed young woman hiding a valuable secret in the thriller Don't Say a Word that Murphy could handle complex characters, comedy seems to be her forte. In Little Black Book, a role far better suited for her than her less challenging turn in Just Married, Murphy delivers a performance with moxie. Her Stacy is sweet, clumsy, smart and ambitious-contrasting qualities that are hard to encompass in one believable and likable character. Murphy's infamous ''I'll never tell'' line from Don't Say a Word may made have made her a recognizable star, but this role should elevate her to a hot Hollywood ticket. Whether Murphy has chemistry with her leading man, Livingston, is irrelevant here, which sounds odd, considering this is a romantic comedy. But with Livingston's character being out of town for most of the film, Murphy has more interaction with Hunter, who plays her co-worker Barb. Barb, a senior producer with Kippie Kann Do, takes on a motherly role here as she takes a naïve Stacy under her wing. Hunter is wonderful as a producer with a chip on her shoulder, passively bitter about most of her ideas constantly getting passed up.

Direction

Director Nick Hurran, who helmed several little-known films including Girls' Night and Remember Me?, gets credit for turning out a romantic comedy that defies Hollywood's convention of the genre. What helps is the story, written by scribes Melissa Carter and Elisa Bell, which is completely unpredictable in its approach. The story's most intriguing aspect is the elusive character Derek, who is painted in a positive light at the beginning but then is cast in shadows throughout the film. Could he really be the scoundrel his Palm Pilot is making him out to be? This is precisely the same question that plagues Stacy, and the audience gets to go along for the ride. But what's even more surprising is how the story plays out; complete with a denouement that proves happy endings come in all shapes and sizes. Hurran also pays homage to Working Girl, which is especially touching if you're a fan of 1988 romantic comedy. Like Melanie Griffith's character Tess, Stacy is a New Jersey girl with dreams of one day making it big in the Big Apple. Carly Simon, who won an Oscar for Working Girl's title track ''Let the River Run,'' plays an instrumental role here: Stacy turns to her records, like her mother did, for guidance and inspiration.

Bottom Line

An unexpectedly enjoyable romantic comedy, Little Black Book steers clear of conventional contrivances and sugary idealism--without being down with love.