Review Date: July 27th, 2003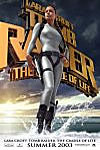 In her latest adventure pic, Lara Croft journeys to an underwater temple in search of lost treasures. During her expedition, she stumbles upon a sphere that contains the key to Pandora's box.

Story

Archeologist extraordinaire Lara Croft (Angelina Jolie) and her team find a luminescent sphere located in an ancient underwater ruin in the Mediterranean Sea. Croft soon finds out the glowing orb is actually a map revealing the location of Pandora's Box, a mythical box containing ''life and death''--and a lot of really bad people, including a Chinese crime syndicate boss named Chen Lo (Simon Yam) and his evil partner Jonathan Reiss (Ciaran Hinds)--want it. The battle is on as all three race for the box, Croft to protect it and the others to turn it into a nifty doomsday weapon. The film strings one action sequence after the next as Croft fights evildoers in her around the world scavenger hunt for Pandora's box--and while some fit in, most are gratuitous. There is Croft performing flips on her jet ski, for example, or Croft riding a motorcycle for what seems like an eternity through the hills in eastern China. The film plays out like the multilevel video game, but unlike its PlayStation2 counterpart, we have no control over the action. The extravagant stunts, however, cannot make up for the dry storyline that isn't gripping and ultimately fails to draw you in.

Acting

The concept behind Lara Croft is so fresh and intriguing that it's a shame Hollywood consistently traps the character in such shamefully bad storylines. As portrayed by Jolie, Croft is the perfect female heroine; she's intelligent, driven and tough, and her life is absolutely fascinating. But while the first Tomb Raider movie gave us a wealth of information about Croft's character, including her patronage, education and what drives her as an explorer, the sequel just hangs her out to dry. Too bad! If any actress can pull off a complex character like Croft, it's definitely Jolie. Not only can she pull off the physical stunts, but she also has developed little character quirks--i.e., the raised eyebrow, quizzical look. But we never get a closer glimpse into Croft's life and the screenplay rarely allows her personality to emerge. There is an endearing scene in which Croft knocks on the door of a Chinese family and asks to borrow their television so she can hook up a video cam and send a message back home to England. The brief interaction Croft has with the little girl, who sits and watches Croft in amazement, is quite touching and it would have been nice to see more of this human side.

Direction

Dutch director Jan De Bont (Speed 2: Cruise Control), exhibits a flamboyant visual style here but Lara Croft Tomb Raider: The Cradle of Life has little to offer other than its look. Most of the slick stunts, for example, are not only unnecessary but also unsound. One of the more preposterous action sequences has Croft slicing her arm underwater to attract a shark, which she then punches in the nose before clutching on to its dorsal fin and pilfering a ride to the surface. Croft had just had her thigh torn open minutes earlier in a brawl. Couldn't she have squeezed some blood out of that wound rather than carve a new one? Never mind the fact that the shark then conveniently swims away and never comes back for a bite of its bleeding prey. But wait, it gets worse: Croft then gets rescued while floating at sea by some Brits who show up on a Russian nuclear submarine. Little of it makes any sense. Shot in Greece, Tanzania and Hong Kong, De Bont shows some polished National Geographic-looking frame compositions that are unfortunately trapped within Dean Georgaris's lackluster screenplay.

Bottom Line

Despite Angelina Jolie's valiant effort and director Jan De Bont's glossy visual style, Lara Croft Tomb Raider: The Cradle of Life's storyline is not intelligent enough to hold it together or outshine its predecessor, Lara Croft: Tomb Raider.