Elf
(PG)

★★

Review Date: November 12th, 2003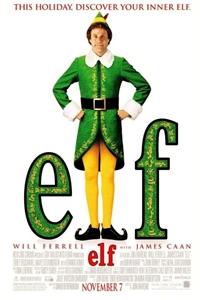 Comedian Will Ferrell stars as Buddy, a human raised by elves in the North Pole who journeys to Manhattan in search of his biological father.

Story

A combination of classic Christmas tales, Elf is the story of Buddy, an orphaned baby who crawls into Santa's toy bag and ends up being raised by elves as one of their own in the North Pole. But years later, at 6 feet 3 inches tall, this eccentric ''elf'' just doesn't fit in--literally and figuratively--so his adoptive father, Papa Elf (Bob Newhart), tells him about his real father, a children's book publisher living in New York City. Like the aspiring dentist elf in Rudolph the Red-Nosed Reindeer, Buddy sets off to his version of the Island of Misfit Toys, Manhattan, but his dreams of a sugarplum-filled reunion turn sour when his dad, Walter (James Caan), turns out to be a Grinch-like curmudgeon more concerned with money then anything else. Worst of all, Buddy believes everyone in the city has forgotten the true meaning of Christmas. But when Santa's sleigh crash-lands in Central Park on Christmas Eve, New Yorkers, like the people of Whoville in How the Grinch Stole Christmas, break out into song and their energy bestows enough holiday spirit to thrust Santa's reindeer-driven sleigh back into the sky. And Buddy? He wins his father over by publishing a profitable biography of his life.

Acting

Tall, blonde and goofy-looking, Ferrell's characterization of Buddy as a naïve and tenderhearted giant is absolutely hilarious and is the saving grace behind Elf. Ferrell resuscitates the film's not-so-funny lines with his delivery: he has a babyish way of pointing out the obvious in a manner that would normally be considered insulting: for example, when he meets a renowned children's author (Peter Dinklage) who happens to be a ''little person,'' he excitedly points out, ''Hey, you're an elf!'' Playing Buddy's biological father and serious counterpart is veteran actor Caan, whose unyielding expressions make Buddy's persona seem even more over the top--like when he tells his son flat out that that it's time to ditch the yellow tights. Adding an edge to the normally jovially portrayed Santa Clause is Edward Asner, whose chubby St. Nick is more stressed out and short-tempered than jolly--as expected from a man with all his responsibilities.

Direction

With a wacky concept and a great cast, it's a shame director Jon Favreau (Made) never fully exploits Elf's potential; Like Santa's reindeer-guided sleigh, the movie launches with an encouraging start in the North Pole but sputters and eventually nose-dives in the heart of Central Park. Elf's opening North Pole sequence are by far the film's best, with the lofty Buddy, somewhere in his 30s, still not fully comprehending that he is not an elf. The tiny, snowcapped sets create a truly funny juxtaposition for Ferrell's oversized character as he crams into miniscule props, including a school desk, a bathtub, a bed and an impractically small house. But like a blizzard, Favreau plows through the movie's creative North Pole setting and into the insipid city backdrop, where the film falls prey to clichéd fish-out-of-water jokes. Here, Buddy marvels at all things cosmopolitan, including department store revolving doors and escalators. It's a shame Favreau cut short Buddy's antics as a lanky, middle-aged human surrounded by elves in the North Pole while utterly prolonging his experiences as an elf in New York City.

Bottom Line

Thanks to a classic performance by comedian Will Ferrell, director Jon Favreau's Elf has some genuinely funny moments, but while the idea behind Elf may be gleefully outlandish, unfortunately this holiday comedy fails to take full advantage of its own absurdity.