Review Date: March 6th, 2003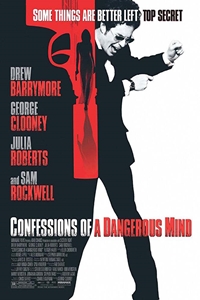 Confessions of a Dangerous Mind is based on game show impresario Chuck Barris' 1984 book, in which he claims to have been lured into the dangerous world of the CIA, executing assassinations for the United States government.

Story

Chuck Barris (Sam Rockwell) was the Hollywood producer and creator of the hit ABC shows The Dating Game, The Newlywed Game and The Gong Show--and what some call the innovator of reality TV. In 1984, Barris wrote Confessions of a Dangerous Mind: An Unauthorized Biography, in which he claims to have moonlighted as a hit man for the CIA. He even goes so far as to say the trips awarded to winning couples on The Dating Game were covers for covert missions. Why else, he sustains, would the show have sent an interracial newlywed couple to West Berlin in 1970? Riiiiggghht. Barris claims to have killed 33 people, but the only thing critics accuse him of killing is American culture. For better or for worse, there is no arguing that Barris, through perseverance, luck and lots of audacity, changed the face of television. But instead of balancing the two conflicting sides of Barris' life, the film delves into his absurd accounts of assassinations from Helsinki to Berlin, and getting presidential citations under the table while critics ripped into him for his dumbing-down of American TV.

Acting

As the film opens, Rockwell's Barris is sitting in a grimy hotel room, explaining through narration that his salvation is to tell his life story. He spent a lifetime chasing women for sex, you see, but what he really wanted was to be loved. The problem with Rockwell's performance is that we never get to see that side of Barris' character. While Rockwell is able to express Barris' smuttier side, he fails to carry the role through to show his character's more vulnerable side, which results in a very unlikable main character. His love interest in the film is the free-spirited Penny, played by Drew Barrymore. Barrymore brings a sweet authenticity to the role and depicts her character's love for Barris in a convincing manner. But since Barris is portrayed as such a despicable guy, it's hard to empathize with her as she takes him back, one infidelity after another. Julia Roberts, who normally commands up to $20 million a pic for Hollywood schlock, makes an appearance here as Patricia Watson, a fellow CIA operative. The part is a frivolous one; probably a figment of Barris' imagination, and Roberts plays it tauntingly.

Direction

George Clooney makes his directorial debut here from scribe Charlie Kaufman's (Adaptation) screenplay. The project was greenlighted and then shelved again several times before Clooney came on board as director, and he assembled talent with enough clout to finally get the movie made. If you like overly stylized films chances are you will enjoy this film; Clooney showcases some heavy-handed direction and proves he pored laboriously over every shot. But while the film is visually discriminating, the story is not all that compelling. The film glazes over Barris' days in the TV biz and dedicates only about 10 minutes of screen time to each show, even though they played such a significant role in his life. Former Gong Show panelist Jaye P. Morgan and former Dating Game host Jim Lange offer interesting testimonies about Barris, but these are too short to have the impact and credibility the film needs. Clooney instead chooses to sprinkle it with a few re-creations from the show, including one segment featuring The Unknown Comic and one from The Dating Game, which featured cameos from his clique of acting buddies Brad Pitt and Matt Damon.

Bottom Line

In his directorial debut Confessions of a Dangerous Mind, George Clooney delivers a highly stylized biopic that showcases the confessions of an absurd mind rather than a dangerous one. The story is about as gripping as a Gong Show performance by Gene Gene the Dancing Machine.