Review Date: October 17th, 2003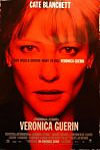 The true story of murdered Dublin crime reporter Veronica Guerin is worth telling, but this rendition doesn't quite do it justice.

Story

As a columnist for Dublin's Sunday Independent, crime reporter Veronica Guerin wrote with conviction about the city's growing drug problems and the pushers behind them--so much so that her life was threatened and she was even shot in the leg at point-blank range in her own home. Ultimately, her tenacious efforts to uncover the truth led to her murder on June 26, 1995, and her death was instrumental in changing Ireland's criminal and drug laws. Her story is an important one, but Hollywood's second attempt at it in Veronica Guerin (the first was 2000's When the Sky Falls, starring Joan Allen as Guerin) falls short of telling it well. It may be that this journalist's story is better expressed in the medium she chose herself--print--which would allow a fuller look at the complex legal and ethical issues surrounding Guerin's efforts to uncover crime in her city. Can she name names in print? Should she reveal her sources? Were Dublin's laws keeping criminals on the streets? All these questions are asked but never elaborated upon, and a complex, intelligent story becomes Hollywood simple.

Acting

Cate Blanchett's performance in the title role keeps Veronica Guerin from slipping into made-for-TV muck; as usual, she's a powerhouse on the screen. The rest of the all-Irish cast supports her well enough, but they often fade into the background--they're mundane voices of reason set again Guerin's devil-may-care flippancy. The one exception is Gerard McSorley (In the Name of the Father), as Guerin's arch-nemesis, John Gilligan. He's so violent and angry that he holds his own when he shares the screen with Blanchett. Given what a force the lead character is in the film, it's interesting that most powerful scenes are at the end--after Guerin (and Blanchett) have ''left the building,'' as it were. Watching the reactions of the supporting cast when they learn of Guerin's death is a moving experience, which Schumacher makes all the more poignant by removing the dialogue and running Sinead O'Connor's ''Funeral Song'' over the images. (This is not a spoiler, folks; it is a true story, after all.)

Direction

Veronica Guerin is the answer to the question: What happens when the writer of Beaches (Mary Agnes Donoghue) teams up with the producer of Bad Boys (Jerry Bruckheimer) and the director of Bad Company (Joel Schumacher)? You get good and evil, black and white, lots of guns, plenty of punches thrown, and a 10-tissue ending when somebody admirable dies. The good guys are schmaltzy good and the bad guys are violently bad. The vast number of syringes strewn about in one scene makes the playground setting look like a medical-waste truck lost its cargo there, not as if there were actual addicts shooting up on the monkey bars.

Bottom Line

Veronica Guerin is a good story gone mediocre in the hands of Hollywood hotshots Jerry Bruckheimer and Joel Schumacher.