Review Date: September 12th, 2003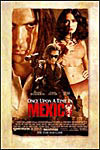 A guitar-picking gunslinger continues his cacophonous quest for revenge in director Robert Rodriguez's third and final El Mariachi bloodbath, a

contemporary homage to Sergio Leone's 1960s spaghetti westerns.

Story

Payback's no longer a simple affair for the mariachi with no name (Antonio Banderas). In El Mariachi and

Desperado, the pistol-packing musician took aim at the drug dealers responsible for

dragging him into a turf war. But Rodriguez wisely decides against duplicating Death Wish south of the border for a third time. Instead, he pulls an Oliver Stone by throwing the mariachi into the middle of a military coup against the newly elected president of Mexico.

The takeover is the brainchild of cartel kingpin Barrillo (a woefully miscast Willem Dafoe), the principal target of a renewed government crackdown on crime. Barrillo enlists

a corrupt general to assassinate the president and seize power. This makes it personal

for the mariachi--this is the same general who butchered our hero's Desperado amor,

Carolina (Salma Hayek), and their child. Enter maverick CIA agent Sands (Johnny

Depp), who strong-arms the mariachi into helping to thwart the coup. Sands, though, is

as cold-hearted and murderous as Barrillo. He only wants the mariachi to gun down the

general once the president is dead. There's plenty of loot dashed away in the

presidential palace, and Sands wants it all. Of course, the mariachi is no man's pawn--and that overly complicates matters. The political machinations are often so needlessly

convoluted that Rodriguez makes it tough to follow every twist, turn and double cross.

Sometimes you yearn for the straightforwardness of Rodriguez's previous shoot-'em-ups.

But however knotty things get, Rodriguez's ambitious and tongue-in-cheek attempt to

depict a country in political chaos is preferable to redoing El Mariachi a second time.

Acting

Once Upon a Time in Mexico is to El Mariachi what The Good, the Bad and the Ugly was

to A Fistful of Dollars. Sergio Leone partnered Clint Eastwood's Man With No Name with

two rogues for a Civil War-era treasure hunt. Likewise, the charro-suited Banderas is no

longer a solo act. He's now relegated to the status of featured guitarist, and that seems to

have stripped him of the fiery wit and brazenness that he flaunted in Desperado. He still

smolders when demonstrating his virtuosity with the gun and the guitar. But the tanned

troubadour is quick to hide behind his lanky long hair, denying us even a hint of the

anger and hatred that fuels his mariachi's quest for retribution. Depp proves his devil-may-care turn in Pirates of the Caribbean was no comic fluke. He's coolly but cheerfully snide as

the sinister symbol of the United States' occasionally questionable

interventions in Latin American affairs. "Are you a Mexican? Or a Mexican't?" he quizzes

one local. As vile as Sands is, Depp engenders some sympathy for the amoral lawman

when he meets a fate worse than death. Even then, Depp never allows Sands to bite his

wicked tongue or back down from a fight. Ruben Blades and Mickey Rourke add gravity

and insight into the mayhem as, respectively, an ex-FBI agent out for justice and Dafoe's jaded

henchman. Rodriguez invites back two of Desperado's deceased in different roles: beefy

Danny Trejo, menacing as Depp's untrustworthy hired muscle, and chatterbox Cheech

Marin, a hoot as an informer who raises Depp's ire. Pretty-boy singer Enrique Iglesias,

making his film debut as one of the mariachi's sidekicks, is more comfortable carrying a

tune than holding a gun. And, regretfully, Hayek logged more time with her Spy

Kids 3-D: Game Over cameo than she does in her fleeting reappearance as Banderas'

sweet Carolina. There's early hope that her return means she finally gets to kick some

butts. Unfortunately, she's still a damsel in distress, and a doomed one at that.

Direction

Rodriguez's family-friendly days are over, and not a moment too soon. After banging out

three Spy Kids capers in as many years, Rodriguez finally cuts loose by once again

drenching the streets of Mexico red with blood. And the best way to wash away the

horrible taste left by Spy Kids 3-D's preachy, redundant, pro-family agenda than with a

shot of tequila and a heapin' helpin' of hot lead. Gloriously shot with high-definition

cameras in 2001 before the two Spy Kids sequels, Rodriguez choreographs the chaos

with spectacularly Looney Tunes-ish bravado. Bullet-riddled bodies don't just fall to the

floor--they fly 10 feet into the air before landing with a ground-shaking thud. Banderas

and his mariachis-in-arms carry guitar cases that double as flame-throwers and remote-controlled bombs. One major protagonist, blinded after a torture session, stumbles

through the coup with a young boy acting as his eyes. It's an oddly poignant moment to

watch the boy guide the sightless man's aim, and one straight out of a Sergio Leone

oater. Rodriguez doesn't possess Leone's vision or panache, and that's problematic as

far as the intricate plot goes. He devotes so much attention to keeping the political

intrigue coherent that he occasionally saps the film of its dynamism. He also mishandles

Salma Hayek's small but significant contribution by employing her only in flashback or

fantasy sequences. She maintains a presence throughout the film, but Rodriguez would

have been better served chronicling her unfortunate fate as part of a prologue to avoid

further confusion. Still, when the guns start blazing, Rodriguez gets down to what he

does best. Famed for his ability to make a tight budget go a long way, Rodriguez

orchestrates a slew of elaborately inventive gunfights and car chases that the likes of

McG and Rob Cohen couldn't execute even with the benefit of $100 million in their

pockets. This is one Mexican standoff that, in spite of its narrative lapses, is fast and

furious fun from start to finish.

Bottom Line

Once Upon a Time in Mexico seemingly marks the swan song of Rodriguez's El Mariachi saga. If that is indeed the case, Rodriguez has closed a pivotal chapter in his career with

a blood-soaked epic that dazzles when the bodies pile up but confounds when the

convoluted plot kicks in. Saying adios to Banderas' modern-day gunfighter is far from

tearful, but it would be a shame if Depp's deliciously unscrupulous CIA agent never goes

undercover again.