Review Date: December 13th, 2002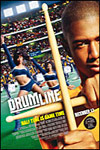 A gifted hip-hop drummer from Harlem wins a full music scholarship to Atlanta A&T University with the hopes of gaining a spot on the drumline of the school's renowned marching band.

Story

Drumline centers on Devon (Nick Cannon), a talented young street drummer from Harlem who gets a full music scholarship to the fictitious Atlanta A&T University. His goal is to gain a spot as a starter on its acclaimed marching band's drumline. But Devon, whose raw talent doesn't come from a textbook, doesn't feel the need to pay his dues (''Ain't no class gonna teach me how to be me,'' he asserts). His reluctance to tow the line creates friction between him and senior class band member Sean (Leonard Roberts, better known as Forrest in Buffy the Vampire Slayer), who thinks that Devon has the talent but lacks the discipline to be on the drumline. Meanwhile, band director Dr. Lee (Orlando Jones) has his own problems: the school wants him to spice up the band's routine with hip-hop, but he prefers ''Flight of the Bumblebees'' to ''The Thong Song.'' Pressure mounts as A&T prepares to vie against the region's best college band for the Big Southern Classic's $100,000 jackpot. This unparalleled look at show-style college marching bands will leave even the rhythmically challenged wanting more.

Acting

Cannon, who stars on Nickelodeon's The Nick Cannon Show--a series he created and executive produces--makes his feature film debut here as Devon, and he manages to bring arrogance to his character with just the right amount of candor. Devon's love interest in the film, Laila, is played by Zoe Saldana (Crossroads). Unlike most coming-of-age movies, however, their relationship is refreshingly real and they act and communicate like teens do. In one scene, Laila tries to give Devon some guidance and offers him some clichéd advice, to which he responds, ''I don't even know what that means.'' Jones (Evolution) plays band leader Dr. Lee as a traditionalist always striving for perfection, defining Lee as someone who is very intimidating yet still personable. Leonard Roberts as his right-hand man Sean goes through his own transformation in the film and learns to put the needs of the drumline before his own dislike for Devon. Overall, Drumline is extremely well-acted.

Direction

In the film's press notes, director Charles Stone, III (Paid in Full) likens Drumline to a big musical--without the people breaking into song. Throughout the film music and the rhythmic sounds of the drums are constant yet never overpower the story line or the characters. Scribes Tina Gordon Chism and Shawn Schepps varied a formulaic sports-themed storyline by replacing football antics with choreography and brass. The competition, however, proves just as fierce as any sport. The production team behind Drumline definitely went out on a limb with this project because it tackles a subject that isn't exactly mainstream and made it into an incredibly entertaining film. The film's soundtrack is also an homage to Southern show-style bands, which actually play Top 40 tunes. Not surprising considering Drumline was executive produced by Grammy-winner Dallas Austin. Whether it's the soundtrack, the story, the characters or the impressive battle-of-the-bands climax, this film doesn't miss a beat.

Bottom Line

Where marching bands normally conjure up images of ceremonial and elaborately decorous performances, Drumline marches to a rhythmically unique and different beat. It's entertaining from start to finish.