Review Date: December 21st, 2001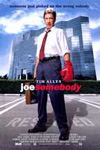 In this serviceable comedy, an everyday guy gets a chance to make a name for himself by fighting the office bully and realizes being popular isn't all that its cracked up to be.

Story

We've all known nobodies like Joe Scheffer (Tim Allen)--a milquetoast fellow who works at his job while hardly anyone notices him. Even though he's a talented video specialist for a big company, he is regularly passed over for a long-promised promotion. Only one of his co-workers, ''wellness coordinator'' Meg Harper (Julie Bowen) pays attention to him--mostly because it's her job but she also genuinely likes him (he secretly likes her too). One day the straw breaks when he loses his hard earned parking spot to the office bully Mark McKinney (Patrick Warburton) and is then humiliated by Mark in front of his precocious 12-year-old daughter, Natalie (Hayden Panettiere). Joe decides he is not going to roll over and play dead; he's going to challenge Mark. Suddenly, his popularity grows at the office. He starts climbing the corporate ladder. He gets a makeover and takes martial arts instruction from a washed-up ''B'' action star (Jim Belushi). Life is good--that is until Joe notices how unimpressed Meg and Natalie have become; they want the old Joe back (and darn it, so do we). As the big day approaches, Joe must decide if he will play into the popular vote or show everyone that he is truly a ''somebody'' now.

Acting

You've got to admit that Tim Allen is a funny guy. He can be thrown into any comedy (and he's smart enough to keep making them instead of trying to do a ''drama'') and you know he's going to pull out a pretty good performance. Some of his efforts, like the hysterical Galaxy Quest, have been better than others. Unfortunately, Joe falls into the ''other'' category, but don't blame Allen too much since he still manages to make Joe an endearing character. Bowen is plucky and spirited without much substance, while Panettiere is a standout as Joe's daughter Natalie. With a face like an angel, she projects more real emotion than anyone else, and if she plays her cards right, she might turn into a good little actress. Best of all, it was great to see Belushi again. Definitely a high point of the film, he is hysterical as the has-been action star trying to teach Joe how to fight.

Direction

Joe provides just enough laughs to keep you in your seat, but it isn't really going to surprise you. The formula is simple-wimpy guy stands up for himself, learns invaluable lesson about being true to oneself and gets the girl. This isn't rocket science, folks, and the script lapses into pat answers a little too easily. Still, it's one of those comedies that grows on you whether you want it to or not. The funniest moments in the film are between Allen and Belushi, hands down, with the comic veterans playing off one other expertly. It's also clear director John Pasquin and Allen have a long history together. They began their relationship on Allen's hit TV show Home Improvement and then went on to make a few successful films for Disney, including The Santa Clause and Jungle2Jungle. Pasquin can bring out good stuff from Allen but somehow misses the great things Allen can do.

Bottom Line

Since it's really only a run-of-the-mill comedy, Joe Somebody may have a hard time staying afloat among the slew of year-end Oscar contenders.