Review Date: December 21st, 2000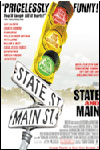 Hollywood invades Main Street in this unexpectedly light, satirical screwball comedy from hardball writer/director David Mamet.

Story

Having been kicked out of their New Hampshire location, a director and his production crew have only days to secure new locations for their period drama, "The Old Mill." The company invades the sleepy little town of Waterford, Vt., and the ripples immediately spread. At first pleased to have big-time stars in their front yard, the quiet locals come to realize the true impact of Hollywood and bear witness to property destruction, on-the-loose actors, a budget crisis and general production frenzy. Conversely, the simple pleasures of small-town America begin to distract the self-involved crew, illuminating the "intersection" of their two different cultures.

Acting

Regular Mamet player William H. Macy is great as always, displaying a varied disposition as the impatient, sweet-talking and manipulative director. As the flustered screenwriter, it's fun to watch Philip Seymour Hoffman squirm at the capricious insanity around him. Rebecca Pidgeon (Mamet's real-life wife) is warm and engaging as the town's moral center, and Sarah Jessica Parker is hilarious as the clothes-optional starlet with non-sequitur rebuttals. Other standouts include David Paymer as the producer/production babysitter, a game Alec Baldwin as the smug, distracted leading man and a confident Julia Stiles as Baldwin's underage "hobby."anor Bron is a caricature of a stern, sour aunt.

Direction

Skewering Tinseltown stereotypes and rural America with glee, Mamet captures all the right details: the production frenzy, the erratic problem-solving logic, the egos and the greed, hand in hand with the false innocence and easy corruption of local color. While certain industry jokes and insider lingo may fly over small towners' heads, there's a good amount of broad comedy and clever character quirks to make up for it. Citing Preston Sturges as his chief influence for "State and Main," Mamet successfully achieves some genuine screwball comedy, a perfect fit for his normally stiff, stage-like choreography.

Bottom line

The smartest and funniest industry satire since "The Player" and "Living in Oblivion." Make sure you stay through the final credit roll for the extra tidbits.