Review Date: May 18th, 2000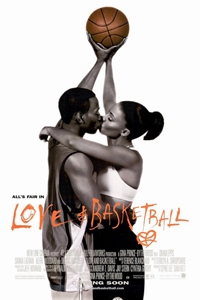 Finally, a love story that doesn't star Julia Roberts and Richard Gere.

For that alone, we should patronize this movie.

Story

Taking place in black upper-middle-class suburbia, "Love and Basketball" is about Monica and Quincy (Sanaa Lathan and Omar Epps), two childhood pals-turned-college sweethearts who struggle with the pangs of growing up, their drive to become basketball stars and their affection for each other. Slip out for Junior Mints during the stereotypical mother-daughter conflicts and the father-son melodrama so you can concentrate on what makes this movie so charming -- Monica and Quincy's coming of age as basketball prodigies and tender boy-meets-girl moments.

Acting

I can only hope that newcomer Lathan collects accolades for her compelling and lovable portrayal of an awkward teenager-turned-prom queen-turned-basketball star. Portraying Monica, a basketball prodigy, Lathan draws you in, keeps you there and leaves you wishing you could bring her home for the Final Four. Her emotional struggle between her love for Quincy and her dedication to her sport proves that she's an actress worth watching. Lathan's convincing action sequences might even persuade even the most Neanderthal of sports bar owners to occasionally switch the channel to women's basketball. Epps, no doubt, lucks out playing opposite Lathan; Alfre Woodard is off-form as Monica's mother; and Dennis Haysbert, as Quincy's pro-ball player father, turns in what could only be described as a WB-inspired performance.

Direction

First-time writer-director Gina Prince-Bythewood debuts quietly and professionally with this low-profile but high-impact love story. Despite the typical boy-meets-girl script and "Felicity"-inspired dialogue, Prince-Bythewood manages to lift it beyond the ordinary to create a simple and charming film that slowly but engagingly unfolds.

Bottom Line

A sweet story and a good date movie. See it and then make out in front of ESPN.