Review Date: December 24th, 1999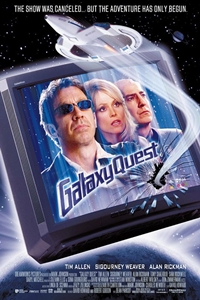 Although a well-promoted sci-fi comedy with big-name box-office draw and impressive special effects, "Galaxy Quest" isn't cut from the same cloth as your average holiday blockbuster: It is sweet, somewhat touching and surprisingly character driven.

In the film, "Galaxy Quest" was a popular TV space drama that aired from 1979 to 1982. Fast forward 20 years from its beginnings, and the actors who played the beloved crew of the show's NSEA Protector are all suited up and ready for action -- of the autographing sort. Now regulars on the sci-fi fan convention circuit, the group greets their legions of faithful devotees (who are played for laughs less than one might expect) and comes across a particularly dogged bunch who turn out to be actual aliens.

These Thermians mistakenly received television transmissions of the series and believe the shows to be accurate "historical documents" and the crewmembers to be real space heroes, capable of helping them win back their planet from the evil Sarris. While much predictable zaniness ensues from such a misunderstanding, the plot's contrivances are completely plausible, entertaining and engrossing. The heroes hit quite a few snags along the way, and refreshingly, no action is without its consequence.

Tim Allen excels as Jason Nesmith, a has-been who necessarily holds on to his last shred of popularity as Commander Peter Quincy Taggart. Contemptible for about 10 minutes in the film, Allen, through the forgiving script and his own charisma, transforms the ego-driven actor into a searching soul desperate to be as worthy of adoration as his character. Sigourney Weaver plays blonde beauty Gwen DeMarco, an actress who doesn't realize her fondness for her character, the communications officer Lt. Tawny Madison (whose main function is to translate the English-speaking computer into, well, English) until she is immersed in the space drama. We've certainly seen Weaver take on aliens and comedy before, but her understated turn in "Galaxy Quest" is an enjoyable, well-acted move in a different direction for the performer, who often plays more severe parts.

Alan Rickman is wonderful as British actor Alexander Dane, a "serious" performer whose career has suffered after his thankless portrayal of the half-human Dr. Lazarus. Rickman deftly handles Dane's love-hate relationship with the series and his second-banana role in a delightful performance that is charming, emotionally engaging and similar to Weaver's turn in its unexpectedness.

"Galaxy Quest" features some top-notch supporting performances. Among the more notable are Enrico Colantoni's ("Just Shoot Me") wacky take on the trusting and gentle Thermian leader Malthasar, Daryl Mitchell ("Veronica's Closet)'s turn as a former child actor still somewhat uncomfortable in his own skin, Tony Shalhoub's ("Start Raving Mad") work as the NSEA's resident tech wizard who springs into action when the going gets rough, and Sam Rockwell's high-energy performance as a former "Galaxy Quest" glorified extra who joins the mission against Sarris to prove he's got what it takes. Newcomers Patrick Breen, Missi Pyle and Jed Rees round out the alien ensemble with skillful turns, while Robin Sachs added a suitably arrogant air to his portrayal of the evil conqueror Sarris.

Well-directed by Dean Parisot, with a cinematic largeness tempered by an appropriate television-inspired intimacy, the film is uniquely sympathetic and good natured, imparting a contagious affection for the flawed heroes and the pure of heart Thermians.

David Howard and Robert Gordon's screenplay even treats the oft-persecuted convention-attending sci-fi enthusiasts with respect and awe, giving a group of them the opportunity to assist in the battle for Thermian freedom through their unparalleled knowledge of the TV show, disproving the standing theory that fandom is a waste of time.

While there aren't many actual laugh-out-loud moments, "Galaxy Quest" is clever and funny. The special effects are solid and well executed and never overwhelm the movie or shift the focus away from the players. Action scenes are somewhat dramatic and compelling if not particularly thrilling, but the most engaging parts of the film are the interpersonal exchanges, especially those between the former TV stars turned universal protectors and the trusting Thermians.

While "Galaxy Quest" is unlikely to be deemed a science fiction or comedy masterpiece, it is certainly an above-average, amusing and affirming holiday diversion suitable for the whole family.

* MPAA rating: PG, for some action violence, mild language and sensuality. "Galaxy Quest"

Tim Allen: Jason Nesmith

Sigourney Weaver: Gwen DeMarco

Alan Rickman: Alexander Dane

Tony Shalhoub: Fred Kwan

Sam Rockwell: Guy Fleegman

A DreamWorks presentation. Director Dean Parisot. Screenplay Robert Gordon and Jerzy Zielinski. Producers Mark Johnson and Charles Newirth. Director of photography Don Zimmerman. Music David Newman. Production designer Linda DeScenna. Costume designer Albert Wolsky. Art director Jim Nedza. Set decorator Ric McElvin. Running time: 1hour, 46 minutes.