Review Date: April 5th, 2000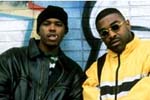 Having written "Bugsy" (1991) and "The Gambler" (1975) and having directed what some feel was among the great debuts in American film--"Fingers" (1977)--James Toback carries around a credibility that's belied by almost every movie he's subsequently made (most recently 1998's "Two Girls and a Guy").

Add to this his much-publicized private life and views thereof--the basis, presumably, for his overrated "The Pick-Up Artist" of 1987--and you can't help but view every Toback project as the Freudian projection of a fevered libido.

In "Black and White," Toback explores the fascination among white teenagers--Manhattanites in this case--for hip-hop culture and, by Toback's extension, the lure of black sexuality. Think "Kids" meets "Jungle Fever" meets Norman Mailer's hipster opus "The White Negro."

Add to this the stunt casting of people like model-actress Claudia Schiffer, boxer Mike Tyson, New York Knick Allan Houston and Toback regular Robert Downey Jr. as the weird, gay (and funny) husband of filmmaker Brooke Shields and "Black and White" starts to resemble such star-crusted movies as 1992's "Where the Day Takes You," in which a mob of fashionable faces (Will Smith, Ricki Lake, Lara Flynn Boyle, Alyssa Milano, David Arquette, etc.) pooled their resources to make a statement about the homeless in Hollywood. It was this short of laughable.

Likewise, "Black and White" features a herd of emerging talent--Bijou Phillips, Gaby Hoffmann, Elijah Wood, Jared Leto, Scott Caan--and is laughable in its way.

But it's also hard, excuse me, impossible, to watch "Black and White" and not imagine that what you're watching are the voyeuristic indulgences of a middle-aged filmmaker playing out his most deep-seated and unresolved sexual fantasies and anxieties.

The three-way interracial alfresco sex scene that begins the movie is indeed a startling way to open a picture, and more startling when we realize what buttons Toback thinks he's pushing. The exploitation and sexual commodification of black men is a valid point for Toback to make--in a movie that does its share of exploiting black men.

Easily the weirdest scene in a weirdly disjointed movie is one in which Tyson, playing himself, urges Harlem rapper Rich Bower (Power of Wu Tang Clan) to commit murder. You wonder if Tyson had his parole officer vet the script and doubt Toback ever thought to suggest it.

* MPAA rating: R for strong sexuality, graphic language, some violence and drug use. Times guidelines: As hard-core as R gets, including a very graphic sex scene at the start.

'Black and White'

Scott Caan: Scotty

Robert Downey Jr.: Terry

Stacy Edwards: Sheila

Gaby Hoffman: Raven

Screen Gems presents, in association with Palm Pictures, a film by James Toback. Written and directed by James Toback. Producers Michael Mailer, Daniel Bigel, Ron Rotholz. Executive producers Hooman Majd, Edward R. Pressman, Mark Burg, Oren Koules. Director of photography David Ferrara. Production designer Anne Ross. Editor Myron Kerstein. Costume designer Jacki Roach. Music supervisor Oli "Power" Grant. Running time: 1 hour, 40 minutes.