Review Date: August 6th, 2001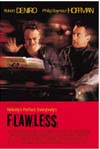 ''They are not girls. They are not boys. They can't help it; they were born that way. Something in the throat,'' an elderly woman says of the drag queen characters in ''Flawless,'' but she could just as easily have been talking about star Philip Seymour Hoffman.

And that's meant in the nicest way. Hoffman, the plump character actor seen in vastly different roles this winter (Anthony Minghella's ''The Talented Mr. Ripley'' and Paul Thomas Anderson's ''Magnolia''), is so natural and note-perfect as a transvestite that he pulls off the near-impossible feat of stealing the film from Robert De Niro.

But De Niro can't be discounted. The double Oscar winner gives a moving performance as a crusty retired security guard who suffers a stroke and forges a quirky relationship with his flamboyant neighbor on the road to recovery.

Written and directed by Joel Schumacher, who has taken some curious career pratfalls of late (''Batman and Robin,'' ''8MM''), ''Flawless'' takes place in an apartment complex on New York's Lower East Side, where both Walt (De Niro) and Rusty (Hoffman) reside. Their early verbal exchanges are usually expletive-filled, as the conservative Walt refuses to ride in the same elevator as the drag queens who frequent Rusty's room, where they practice loudly and proudly for their club performances.

A chase involving stolen money leads to a shootout near Rusty's room, and Walt runs up the stairs, gun in hand. But his vision distorts, and he falls onto the steps in pain, emerging with the right side of his body paralyzed and the inability to speak clearly. De Niro has some of his best scenes here, as he refuses to accept his debilitation and contemplates suicide rather than hobble on a cane.

At the suggestion of his therapist (Kyle Rivers), Walt grudgingly solicits singing lessons from Rusty in order to improve his speech without leaving his apartment. He proves a difficult student, slurring his hateful expletives but spouting them just the same. Rusty presses his fingertips against his forehead and reminds himself, ''Michelle Pfeiffer goes after a dangerous mind,'' before coaching Walt through scales and show tunes.

The stolen-money subplot resurfaces to bring the film and characters to an actioned conclusion but doesn't bring much menace or suspense. Schumacher inserts other plot devices to build character (both Rusty and Walt feel love must come for a price) or inject humor (a drag queen competition erupts into fistfights, with tough lesbians called in to break it up), but they don't do much to further the story.

All the credit goes to the actors. As the den mother, Hoffman is not only more believable than anyone in 1995's drag queen comedy ''To Wong Foo, Thanks for Everything, Julie Newmar,'' but he disappears inside the skin of a man who wants to be a woman. Everything from the curl of his lip to his crinkly grin infers without becoming a caricature. De Niro, who showed a welcome flair for comedy in this year's ''Analyze This,'' is the straight man here, but he uses his paralytic condition for sympathy as well as humor. Rusty's gal pals (professional female impersonators Scott Allen Cooper, Nashom Benjamin and ''Rent's'' Wilson Jermaine Heredia) add spice to the cast, as does Walt's well-meaning but insipid friend (played by Skipp Sudduth).

The two vastly different individuals manage to display great chemistry. Hoffman's sunny disposition (''I'm a singer, I'm a female impressionist, I'm an artist!'' he chortles) plays well off De Niro's stiff, perplexed facial reactions. Their performances -- and Schumacher's rapid-fire one-liners -- are enough to mask the film's weak plot and structure. In the end, ''Flawless'' doesn't live up to its title, but hey, it's nothing a little powder can't fix.

*MPAA rating: R, for pervasive language and strong violence.

''Flawless''

Robert De Niro: Walt Koontz

Phillip Seymour Hoffman: Rusty Zimmerman

Wanda DeJesus: Karen

Skipp Sudduth: Walt

Daphne Rubin-Vega: Tia

An MGM/UA presentation. Director Joel Schumacher. Writer Joel Schumacher. Producers Jane Rosenthal, Robert De Niro and Joel Schumacher. Director of Photography Declan Quinn. Editor Mark Stevens. Music Bruce Roberts. Production Designer Jan Roelfs. Costume Designer Daniel Orlandi. Art Director Sarah Knowles. Set Decorator Leslie Pope. Running time: 1 hour, 34 minutes.