Review Date: October 9th, 2014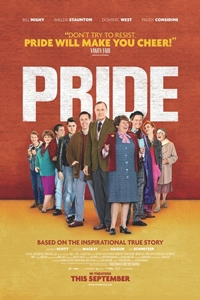 Brassed Off. Billy Elliot. The Full Monty. When it comes to feel-good movies with a social conscience, no one does it better than the U.K. With Pride, they've done it again. Specifically, second-time director Matthew Warchus and first-time screenwriter Stephen Beresford have brought to the screen a tale that's simultaneously touching and funny while being relevant to current events and respectful of the issues involved. Pride will get viewers cheering while reflecting upon how far we have come in 30 years… and how far we have yet to go.

The movie is based on real events but doesn't feel the need to trumpet the fact in an opening caption. Those unfamiliar with the historical basis of Pride may not realize that some of the characters were real people until the narrative concludes with a few "what happened to them next" captions.

Events take place against the backdrop of the 1984 U.K. Miner's Strike. The story doesn't begin by focusing on the miners, however. Instead, we're introduced to a cadre of gay and lesbian activists, led by young firebrand Mark (Ben Schnetzer), who recognizes similarities between the plight of his group and that of the miners. Both hate P.M. Margaret Thatcher and are being harassed by the police. With this thought foremost in his mind, he recruits other like-minded individuals - including in-the-closet college student Joe (George MacKay), epicurean Jonathan (Dominic West) and his boyfriend, Gelthin (Andrew Scott), and outspoken Steph (Faye Marsay) - to form LGSM ("Lesbians and Gays Support the Miners"). They collect donations but, once the National Union of Mineworkers spurns their support, they offer the money directly to a small town in Wales. It is gratefully accepted by a member of the local ruling body, Dai (Paddy Considine), who invites LGSM to visit. Their arrival is met by a mixture of appreciation (specifically from Bill Nighy's Cliff and Imelda Staunton's Hefina), skepticism, and outright hostility.

Pride does an excellent job recreating the time and place when its events transpire. 1984 was a particularly dark time to be gay. Not only was there a strong social and religious stigma attached to homosexuality but the specter of AIDS was seen by some as God's judgment. These factors explain the reluctance of many in the mining community to accept help from a group of "perverts." Pride is about the coming together of dissimilar people as they get to know each other as individuals rather than caricatures. The film uses humor to make many of its points and does so without belittling the situation or diminishing the characters.

There are some nice performances and effective character arcs. Lead actor Ben Schnetzer, an American with a limited resume, impresses in what is effectively his first major opportunity for international exposure. As Joe, George MacKay takes a familiar cliché - that of the gay man afraid to come out to his family - and owns it. Dominic West brings energy and flair to the part of one of the first British men to be diagnosed with AIDS. Bill Nighy plays against type as a meek, quiet man. Imelda Staunton is brassy and outspoken but good-hearted - sort of a kind, generous iteration of the character she played in Harry Potter.

Like Billy Elliot and Brassed Off, both of which also dealt with the plight of miners, Pride highlights social concerns without becoming preachy. Although the film never resorts to graphic images of violence, there are some darker moments when intense bigotry is expressed. The film also has its share of uplifting moments like a dance sequence (featuring Dominic West) that's filmed in a way that recalls Saturday Night Fever and an ending that keeps the reveal behind the reveal properly hidden until the last moment. For many movies, two hours can feel long, but Pride earns its running length as well as the cheers many audiences will give it at the end.