Review Date: N/A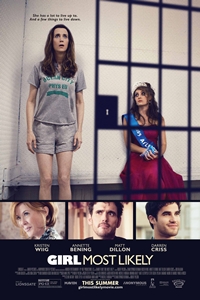 Ever since Bridesmaids earned Kristen Wiig a place in the heart of anyone with a funnybone in 2011, we've all been waiting to see what she'd do next. Sure, she was a part of the ensemble comedy Friends With Kids, but the real test of her mettle would be a solo vehicle. That film has now arrived, and it's bound to be monumentally disappointing to her fans.

Girl Most Likely is an elaborate frame for Wiig's studied awkwardness — her long pauses, her almost muttered delivery of dialogue — that, unlike Bridesmaids, is content to turn every character other than Wiig's into a cartoon. That it comes from directors Shari Springer Berman and Robert Pulcini, whose 2003 triumph American Splendor brims with a generosity of spirit undetectable in Girl Most Likely, is all the more dispiriting.

Imogene (Wiig) is a failed playwright who moves from dead-end job to dead-end job while pursuing her dream in Manhattan. All that sustains her are elaborate fantasies of winning a Tony Award, the fact that she was once listed among New York Magazine's "10 Playwrights to Watch," plus her Dutch boyfriend and a coterie of airkissing, one-shoulder-gown-wearing social climber friends. But after her mate dumps her, she fakes an attempt on her life as a cry for help — at least she knows she's still got some writing chops because everyone sure found her suicide note convincing.

Imogene's remanded to the custody of her louche mother (Annette Bening) in Ocean City, New Jersey. There, against her will, she reconnects with her roots. The problem is that Berman, Pulcini, and screenwriter Michelle Morgan don't seem as interested in establishing a "home is where the heart is" vision of Jersey as a place of acceptance and authenticity as they are in smugly reducing the Garden State to clichés we've seen a million times before: Imogene's brother Ralph (Christopher Fitzgerald) is in love with a woman who sells glitter on the boardwalk! '90s revue shows featuring Britney Spears and Backstreet Boys impersonators are the height of culture! Everybody gambles! The only thing missing is a recitation of the GTL credo.

Imogene and Ralph are characters deeply damaged by life, but their traumas are treated as lightly as waterside cotton candy. We're left to regard each of them as a mass of quirks rather than as human beings. Even the usually sublime Bening is a cardboard cutout. She could play this character in her sleep, as could Matt Dillon as a "CIA Agent" with the codename George Bouche (sound it out!) as her boyfriend.

Where Bridesmaids felt so fresh in every scene — especially in its depiction of female friendship — Girl Most Likely falls back on threadbare tropes over and over. In addition to that scene of Imogene fantasizing about winning a Tony Award, we've got a "wild party!" montage of her doing shots and dancing crazy with her mom's tenant Darren Criss.

Worse still, Berman and Pulcini, who masterfully reconstructed the process of writing in American Splendor, now seem to have no affinity for how a writer, like Imogene, would actually live and work. She only seems to bring pen to page or fingers to keyboard off-camera, and that makes the finale (which we won't reveal here) feel all the more unearned.

We will say this, though: sometimes being the bridesmaid is better than being the bride.